China Daily website is inviting you to share Chengdu Story with us! and here are some points that we hope will help contributors:
I don't live in Chengdu, but I'm enough of a frequent visitor to feel quite at home each time I do visit. I no longer quite remember when I first came to Chengdu, but it was certainly over a couple of decades ago, although it was a whistle stop stay on my way south to climb Emei Shan (Emei Mountains). Whilst today's Chengdu is, of course, in many ways vastly different to the place I remember of the 1980s, the city has retained both its relaxed teahouse culture and a welcoming warm population, proud to show newcomers what their town has to offer and eager to absorb what the wider world can bring.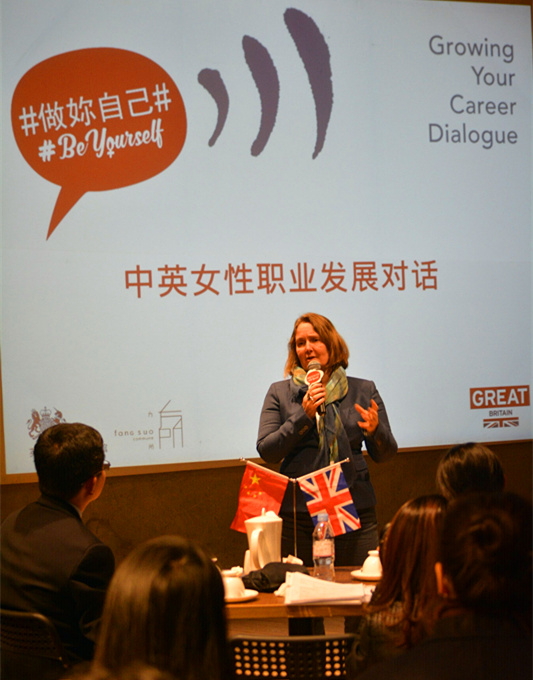 Tina Redshaw, British Consul-General in Chongqing.
After an absence of several years, my return to Chengdu came in 2013, as soon as I took up my new position as British Consul General in Chongqing, responsible for all of SW China. I brought news of the imminent visit of Prime Minister David Cameron. The business delegation and Ministers who accompanied my Prime Minister in December 2013 could not but be impressed by Chengdu's economic development and the efforts local government is making to make Chengdu an easy place in which to invest and to do business. The Prime Minister's programme blended the old with the new, with a visit to Du Fu's Cottage and a stroll along Jinli Street, as well as visits to a modern residential development and to a primary school, where he was challenged to several games of table tennis!
Nowhere do I feel more at home in Chengdu than sitting sipping tea in one of the many outdoor cafes in Taikoo Li Chengdu, one of the newest retail developments that has quickly established itself as a favourite cultural hub. The UK's expertise is on show in the careful preservation and renovation of the temple site's cultural heritage, as well as the design of a modern hotel that incorporates an original courtyard building over 100 years old. Taikoo Li was still under construction when the Prime Minister visited, but in Autumn 2015 when the UK's Chancellor George Osborne visited, he was able to enjoy a stroll round the area. UK heritage is also in evidence in the newest education establishment in Chengdu. Malvern College, that opened in September 2015, has brought a rich heritage of 150 years of British boarding school tradition to Sichuan. Facilitating the range of links between Chengdu and Great Britain and to see them multiply in the fields of trade and investment, education, science, innovation, culture and so much more is one of the best parts of my job as Consul General. I welcome having reason to visit Chengdu even more frequently!
Just last week I hosted a panel discussion in Taikoo Li with a distinguished group of professionals as part of our China-wide activity "#Be Yourself " in celebration of International Women's Day. Four successful professional women working in diverse fields and a man representing the major UK manufacturer , Unilever, volunteered their time to speak to a large audience of final year female students, passing on tips about career planning, how to make decisions about what direction to pursue and the importance of following your passion and "being yourself".
Chengdu has so much to offer its visitors, with some of the best restaurants in China (who can resist deliciously spicy Sichuan cuisine?), relaxed teahouses, coffee shops, parks, temples, pandas, and a growing variety of shops to suit all wallets. That's exactly why I continue to promote the direct British Airways flight from London to Chengdu, as absolutely the best way to start a tour of China.
The author is the British Consul-General in Chongqing.
The opinions expressed do not represent the views of the China Daily website.
[Please click here to read more My Chengdu Story. You are welcome to share your Chengdu stories with China Daily website readers. Please send your story to chengdu2016@chinadaily.com.cn]