China Daily website is inviting you to share Chengdu Story with us! and here are some points that we hope will help contributors: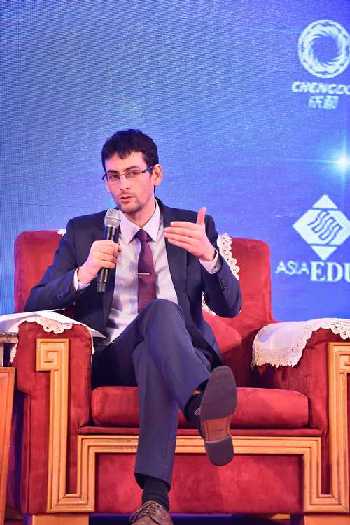 Cobi Yanovsky, Deputy Consul General of the Consulate General of Israel in Chengdu.
During my training at the Ministry of Foreign Affairs in Jerusalem, there was a rumor that Israel is about to open a new consulate in the west of China.
When it became reality I was appointed to become the first Deputy Consul General of Israel in Chengdu. I knew that I had just been given a great opportunity – to open a new consulate, and furthermore, to be one of the first official representatives of Israel in Southwest China – arguably the most interesting region of China these days.
Chengdu is Israel's fourth mission in China; in addition to the embassy in Beijing and consulates in Shanghai and Guangzhou. The Consulate General of Israel in Chengdu is in charge of four provinces – Sichuan, Chongqing municipality, Yunnan and Guizhou.
Living and working as an official Israeli representative in Chengdu holds a great challenge, both on the professional aspect and the personal one.
On the professional aspect, due to the great attention and attraction Israel receives among the Chinese people and vice versa, it is the consulate responsibility to create a bridge between our two historical civilizations.
The Chinese people value of the Israeli people as very smart as related to Jewish culture. One of the most famous Jews in China is of course Albert Einstein. In 2010, before becoming a Diplomat, I worked as a representative of Israel at the World Expo in Shanghai; at the Israeli Pavilion we displayed Einstein's famous manuscript of the theory of relativity next to a big photo of him. During that time I had long hair and a beard and while explaining to the visitors about the manuscript they mentioned that I look very much similar to Einstein, for that I responded "of course, I am his great grandson", I was only aware that this joke went too far and people believed me when a journalist came especially to the Israeli Pavilion to interview "Einstein great grandson", of course he was disappointed when I told him the truth.
The relationship between modern China and modern Israel has tightened in the last years and we anticipate that this bond will become even stronger. Our role in the consulate is to make sure that we fulfill this potential. Cooperation already excites in various fields, such as agriculture, medical, high-tech, energy, as in culture, tourism, education and more. We believe that this is only the very beginning.
We also have an important role to ease and extend the visits from and to Israel and for that we opened a visa section at our consulate and now residents from Sichuan, Chongqing, Yunnan and Guizhou can get a visa to Israel in Chengdu.
On the personal aspect, it is very similar to the known story of the "老外" that comes to China and learns about a new culture.
Although I spent a period of time in Shanghai 6 years ago and I can speak some Chinese, China in general and Chengdu in specific never seizes to amaze and surprise me.
Being fortunate to have experienced living and visiting different cities throughout China, I find Chengdu one of the special and unique of them all.
When in Chengdu it is evident that the pace of living is somewhat slower than a typical city of its magnitude. Maybe it is partly related to the local customs of spending leisure time in parks and tea houses and the prosperity of Chengdu.
A great challenge, specifically in Chengdu, is to cope with the spicy food. It is true that Sichuan food is rich, unique and tasty but I am probably that kind of person that cannot handle 辣椒(chilies). The biggest challenge was on my first month in town when we met the Vice Governor of Sichuan in a formal dinner, during that event we had a delegation of diplomats from our embassy in Beijing. One of the colleagues decided to test his and our abilities and as an "ice breaker" sentence while referred to Sichuan unique food said: 我们不怕辣 (We are not afraid of spicy food). The vice governor and his colleagues accept the challenge and asked the waitresses to bring the spiciest food available, as in a formal dinner I had to put on my strongest face and deal with the spiciest 麻婆豆腐 (spicy and tongue-numb Toufu) to the enjoyment of our local colleagues. Needless to say that even the brave guy from our embassy in Beijing had some difficulties to handle the dish.
Chengdu is a city in a process; it is exciting for me to see the major changes the city is facing, from a developing city to a massive metropolitan with high regional importance, from a second tier city to China's fourth most important center, from a hidden gem that only locals and adventure seekers know of to a city with 13 consulates and vibrant foreign community and I can't help feeling a part of this change, I already know that after a year and half here, this city is a part of me and will always have a special place in my heart.
Now I need to be careful as I arrived to Chengdu in a young age and I might not be willing to leave, as in the famous saying "少不入川老不离蜀" (Don't enter Sichuan in youth and don't leave there in agedness).
The author is the Deputy Consul General of the Consulate General of Israel in Chengdu.
The opinions expressed do not represent the views of the China Daily website.
[Please click here to read more My Chengdu Story. You are welcome to share your Chengdu stories with China Daily website readers. Please send your story to chengdu2016@chinadaily.com.cn]