Ningbo's glorious past as a port is a source of pride to local residents.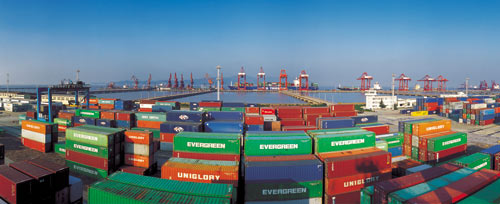 The city has a long history as a port. Relics of wooden oars, ship models and canoes discovered at the Hemude Archaeological Site indicate that Ningbo inhabitants were engaging in maritime activities at least 7,000 years ago.
And historical records show that during the Spring and Autumn Period (770-476 BC), Ningbo was among the five main maritime ports of ancient China. In fact, Ningbo became the most important port in China during the Tang Dynasty (618-907), as it was the hub of the maritime Silk Road that linked China and the West.
"It was not only one of the starting ports of the maritime Silk Road, but also the only port that linked the Grand Canal with the ocean. In ancient China, the Grand Canal was the most important inland water line for transportation," says China's famous historian Gong Yinyan. Gong said that the different generations of ships the port paid host to mark the development of global trade and the shrinking of the world.
 "Ningbo port received wooden sailing vessels and ships powered first by steam then by diesel engines, now huge container ships are the norm." Gong said that as time went by, many ports on the maritime Silk Road lost that function, but Ningbo managed to successfully transform itself from a traditional port to a modern one. "In ancient China, Ningbo port was one of the most important starting ports of the maritime Silk Road. Today, it is still an international port. Something that is not that common in China," he said.