During the process of rapid urbanization in China, many cities have seen scenic features lost to swaths of concrete, steel and glass. But Zhao Leqin, the Party chief of Guilin, is determined that his city will follow a different course and retain the attraction of its natural scenery.
Guilin is exceptional not just for its natural scenery but also for its economic strategy. While many Chinese tend to pledge they're going to build their cities into modern business centers, Guilin's leaders just want to make their city a favorite hangout for people.
Zhao said a main component of Guilin's tourism development program is the accommodation of more people seeking "quiet leisure".
Quiet leisure is a new concept for Guilin to attract China's newly rich middle-class tourists.
"We welcome them to come to tour our mountains and rivers and have fun. And we also welcome them to come here just to look at our mountains and rivers, to idle away their day, and to spend time just staring blankly," said the secretary of the Communist Party of China's city committee, sounding almost like a psychotherapist.
Zhao's comment is a sign of how closely the city government has been following the pulse of the rest of the country. In Chinese Internet jargon, "staring blankly" is a luxury that many young urban professionals look forward to but cannot often afford in their hectic daily lives.
Only a few places are seen as venuesfor spending time staring blankly at the placid mountains and distant rivers.
Guilin is a leading scenic city in China and among the country's top 10 cities as a destination for international tourists. In 2013, it received more than 35 million tourists, of whom nearly 2 million were from overseas, Zhao said.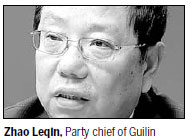 Tourism provides almost 20 percent of Guilin's GDP. In the first half of 2014, when GDP growth for the whole country saw a slowdown, Guilin registered more than 15 percentgrowth in its tourism revenues, despite an increase of less than 7 percent in the number of visitors - showing a marked increase in average spending.
Zhao said the local government views the city as still having untapped potential for attracting more people other than the traditional group tours. One of its new offers is leisurely holidays for people to escape from the hustle and bustle of the modern business centers. New hotels are to be built for this purpose.
The possibility of receiving more tourists is enhanced by Guilin's connection to two high-speed railway lines. It takes only two hours for people from the industrial Pearl River Delta to reach Guilin by rail.
"Not many cities in China are so fortunate," Zhao said.
Guilin's Liangjiang International Airport, which became operational in 1996, handles 5.8 million passengers a year, already above its capacity. Work started in November to achieve the capacity for 12 million passengers by 2020.
While modernization of the transportation system is bringing more visitors, the city has been trying every way to protect the local tourist attractions, especially the Lijiang River, one of the most beautiful rivers in China, which Zhao called "the soul of Guilin's scenery".
Guilin has been making progress in the ecological preservation, tree planting, and water protection in its upstream areas.
Despite Guilin's fame as a tourist city in China, Zhao admits more work still has to be done. It remains a challenge as to how to encourage visitors to spend more time in the city. Domestic tourists spend only on average 2.7 days in the city, and overseas tourists even less time.
Huo Yan and Zhou Chunyong contributed to this story.