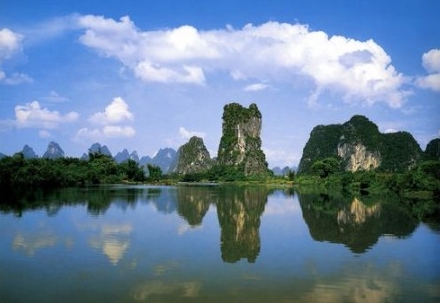 Scenery of Guilin [Photo/Agencies]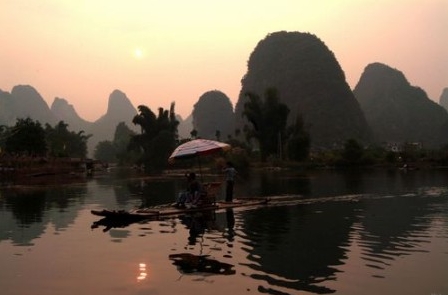 Scenery of Guilin [Photo/Agencies]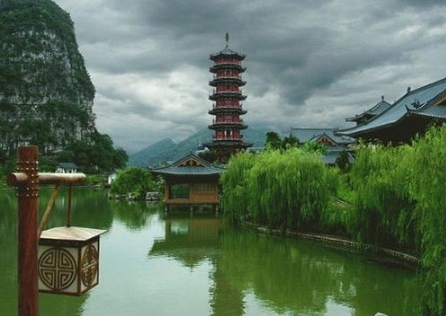 Scenery of Guilin [Photo/Agencies]
Located to the east of Guangxi Zhuang autonomous region, the 437-kilometer-long Lijiang River, a branch of the Pearl River, runs from the Mao'er Mountains north of Guilin through Yangshuo and Pinle to Wuzhou, where it joins the Xijiang River.
The famous Lijiang River is the essence of beautiful scenery in Guilin. Its charm lies in verdant mountains, crystal-clear water, unique caves and exquisite rocks. "Green isles, dangerous shoals, deep pools and beautiful waterfalls" all form attractive sights. The 83-kilometer-long section from Yangshuo to Guilin enjoys the reputation of having the best scenery of Lijiang River. Decorated with undulant and verdant hills, wonderful caves, leisurely boats and fishermen, it is known as the splendid hundred-kilometer picture gallery.
The area surrounding Lijiang River attracts numerous travelers every year with its beautiful landscape and fresh air. Here, accompanied by drizzles and frogs, you can walk along the road lined with paddy fields and row a bamboo raft while emersing your feet in the clear water of Lijiang River.
From Guilin to Yangshuo, the river meanders through wonderful countryside, with bamboo forests, dense reed-beds and impressive rock formations. It is not exaggerating to regard Lijiang River as Guilin's soul.
Location: Domestic tourists embark at Mopanshan Pier; foreign tourists embark at Zhujiang Pier (or possibly at Yangdi Pier during low tides on the Lijiang River).
Boat Ticket: 210 yuan ($ 34) per person for ordinary boats 285 yuan per person for luxury boats (The above price does not include the bus fare from downtown Guilin to the pier nor the bus fare back to downtown Guilin from Yangsuo where the cruise ends; however, lunch fees are included.)
Departure time: at 9:30am,10 am every day (the cruise takes 4 hours)
Tips: It is 40 km away from downtown Guilin. Tourists can get to the piers by taxi or by joining group tours.
Tel: 0773-2825502; 0773-2826484