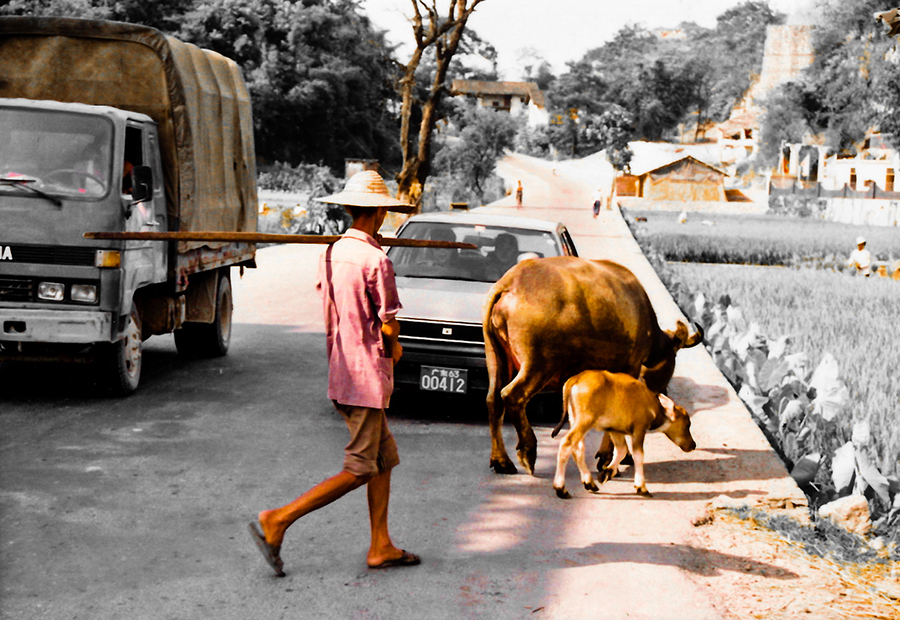 Country road scene of Lianxian in 1993. [Photo by Bruce Connolly/chinadaily.com.cn]
I ate healthily in Lianxian with much fresh produce from the surrounding countryside. Breakfasts of local breads and rice porridge at open-fronted diners were opportunities to observe a regular movement of people in dark blue ethnic costumes; women supporting infants in back carriers. The Yao nationality populate the upland regions of central southern China. Lianxian with its mountainous backdrop was appearing fascinating, very fascinating. Apart from bicycles and 'tuk-tuks' laden with farm produce it felt very quiet but ideal for walking.
Several rivers merge at Lianxian resulting in any journey out from town following valleys buzzing with agricultural activity. Golden yellow predominated with mature rice stocks being harvested and threshed inside wooden, pedal powered, boxes. The discarded straw thrown forward for collection and used as cooking fuel. Men stood in the rivers casting fishing nets. Buffaloes grazed on the grassy banks or pulled ploughs preparing land for fresh seed sowing or transplanting. Small villages alongside bustling fish ponds were numerous. Melons piled alongside country roads where Yao women shaded themselves with unique black umbrellas.