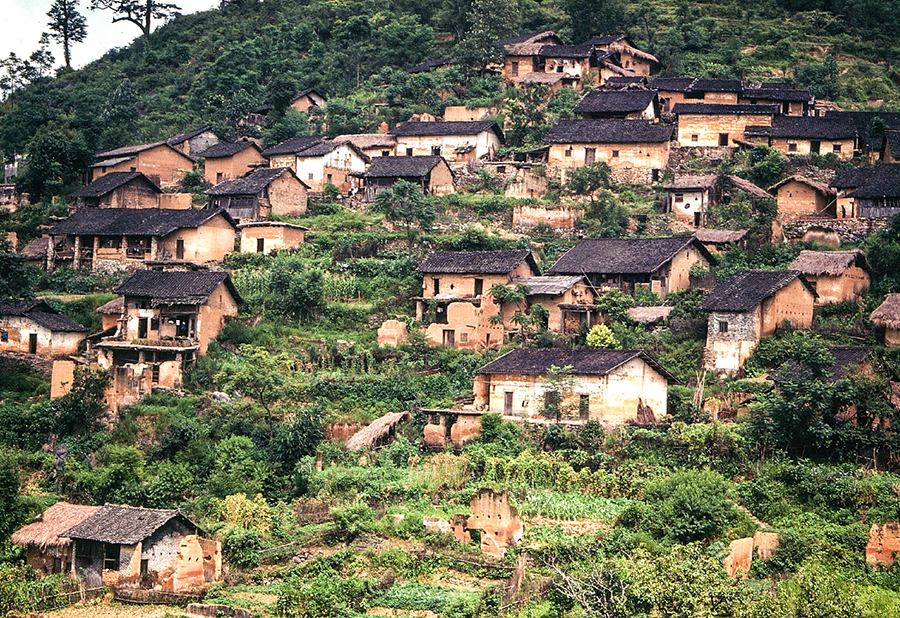 A Yao mountain village near Lianxian in 1993. [Photo by Bruce Connolly/chinadaily.com.cn]
Guangdong's spectacular growth in the early 1990's was mostly around the Pearl River Delta, but infrastructure development was also starting to open up a very different landscape, the remote, mountainous interior, as Bruce Connolly was to discover.
In the early years of China's 'Opening Up' Guangdong with its Special Economic Zones and preferential policies was, and still is, an economic powerhouse driving forward China's Growth. Activity was centred around the Pearl River Delta close to Hong Kong. Guangzhou, at the delta's apex, was my home from 1992-93. An exciting time to be in the city but I was increasingly aware that there was much more to Guangdong beyond internationalising cities. As a geographer, a traveller, I was anxious to explore but infrastructure was not there for solo foreigners. However, as often happens in China, good fortune struck. An unexpected phone call, a friend knowing my desire to travel, was returning home for the summer. "Would I like to come to Lianxian?" "Where?" "Lianxian, in the mountains of northern Guangdong, between Guangxi and Hunan." "When?" "Tomorrow. Be ready at 7.30am. We will pick you up!" I had not even time to think when I mumbled "OK. Thanks."