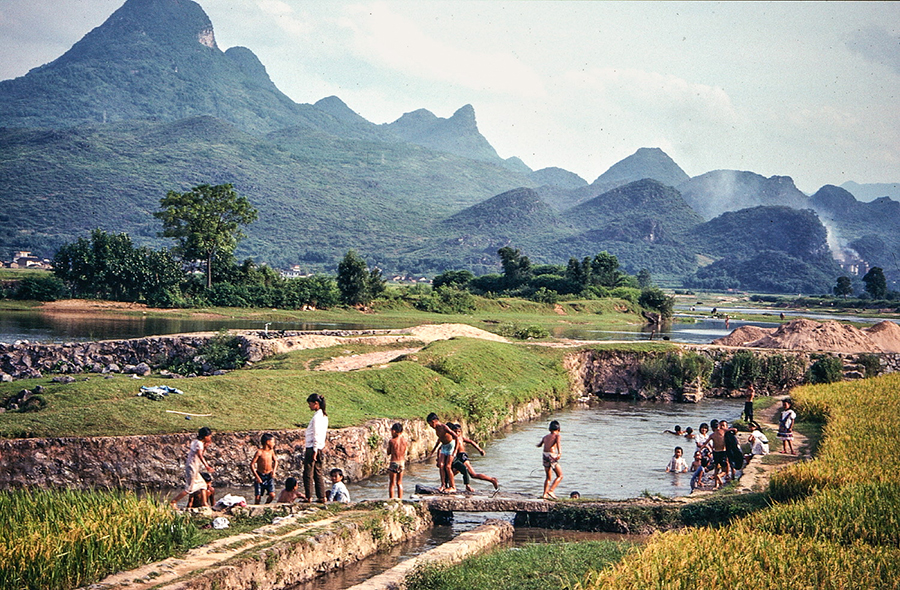 Children playing in irrigation channel in Lianxian in 1993. [Photo by Bruce Connolly/chinadaily.com.cn]
In 1993, with the highway construction underway, often only one lane was open, resulting in stop, go, forward, reverse while following earthen unpaved diversions. Where there were traffic bottlenecks entrepreneurial locals had set up food and drinks stalls!The drive did however provide an opportunity to observe the natural, seemingly timeless beauty of the area, where buffaloes pulled ploughs while small 'tuk-tuk' carts moved between villages surrounded by golden fields of maturing rice overlooked by forested steep slopes. Particularly scenic in the setting sun we were however still a long, long way from Lianxian.
The route continued higher with new tunnels avoiding high passes although where construction was not complete the old road crawled round a series of hairpin bends precariously perched above sheer drops. As the highway started loosing altitude so villages increased in frequency. We pulled up at a roadside restaurant around midnight before reaching Lianxian at 4.00am. I collapsed onto my bed, rising four hours later!