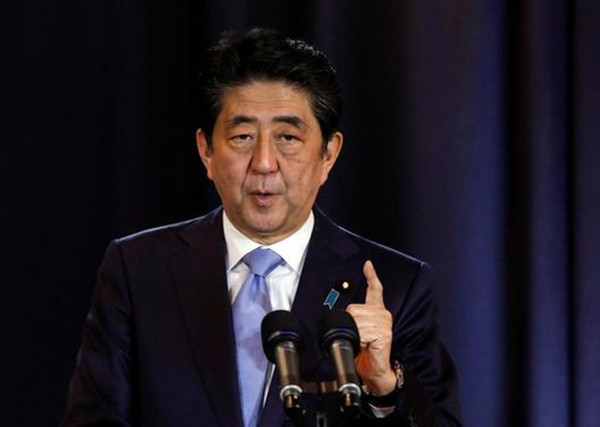 Japanese Prime Minister Shinzo Abe gestures during a press conference in Buenos Aires, Argentina, November 21, 2016. [Agencies]
In February 1972, then US president Richard Nixon visited Beijing in an effort to improve his country's relations with China. Since it didn't get prior information from the United States about the trip, Japan was caught unawares.
Japan's foreign policy has been based on a close relationship with the US since 1945.
And since it didn't have diplomatic relations with China at the time, Japan felt it was being ignored while a new order was taking shape in Asia.
Learning that Washington and Beijing had not normalized diplomatic relations during the Nixon's visit, Japan was relieved. Takeo Fukuda, then Japanese foreign minister, said Nixon's visit would serve as an example for Japan to normalize relations with China. And then Japanese chief cabinet secretary Noboru Takeshita said Nixon's China visit had made the distance between Washington and Beijing shorter than that between Tokyo and Beijing. "But Japan is now in a better position to close that distance," he added.
On Sept 25, 1972, Kakuei Tanaka, then Japanese prime minister, visited Beijing, the first official visit by a Japanese prime minister after the end of World War II. Following that visit, China and Japan normalized their diplomatic relations.
The current Japanese foreign policy continues to take cues from the US.
This year, Japanese Prime Minister Shinzo Abe has tried to reach out to China in the hope of not being "excluded" as US President Donald Trump's administration moves closer to Beijing. Trump accepted President Xi Jinping's invitation to visit China when the two met in Florida in February.
In a letter to the Chinese president delivered by Japan's Liberal Democratic Party Secretary-General Toshihiro Nikai who visited Beijing in mid-May to attend the Belt and Road Forum for International Cooperation, Abe called for resuming "shuttle diplomacy" in which both leaders regularly visit each other's countries.
When State Councilor Yang Jiechi paid a visit to Tokyo in late May to take part in the fourth round of the high-level political dialogue between China and Japan, Tokyo wanted to discuss arrangements for a meeting between Abe and Xi on the sidelines of the G20 Summit, which will be held in Germany in July. All the four Xi-Abe face-to-face talks so far were on the sidelines of international conferences.
Besides, Abe is likely to pay a visit to China in 2018 when China is due to host the trilateral meeting for leaders of China, Japan and Republic of Korea. And addressing an international conference in Tokyo on June 5, Abe said Japan was willing to participate in the China-proposed Belt and Road Initiative that is aimed at improving connectivity between Asia and the Middle East, Europe and Africa.
If the plan incorporates "the common beliefs held by the international community", Abe said it could be consolidated in a beneficial form with a free and fair trans-Pacific economic zone.
On June 6, the LDP, which heads the ruling coalition with Komeito, invited Chinese Ambassador to Japan Cheng Yonghua to brief its lawmakers about the Silk Road Economic Belt and the 21st Century Maritime Silk Road.
Along with the US, Japan had shunned the Chinese initiative. But following in the footsteps of the US, Japan's China policy is changing.
Still, the two sides lack mutual trust.
Political observers say the rise of China is one of the most defining transformative realities of the 21st century. In the second half of the 20th century Japan was the leading country in Asia. But China's economic and geopolitical rise has caused a paradigm shift, which is uncomfortable for the US and extremely uncomfortable for Japan.
Former Japanese prime minister Shigeru Yoshida said after the end of World War II that Japan had to face the new reality and build a solid relationship with its erstwhile arch enemy.
The statesmanship of Japanese politicians like Yoshida is needed more than ever now. And to build that solid relationship, the two sides need to make efforts to first build mutual trust.
The author is China Daily Tokyo bureau chief.
caihong@chinadaily.com.cn