Trump unwise to pull out of Paris climate accord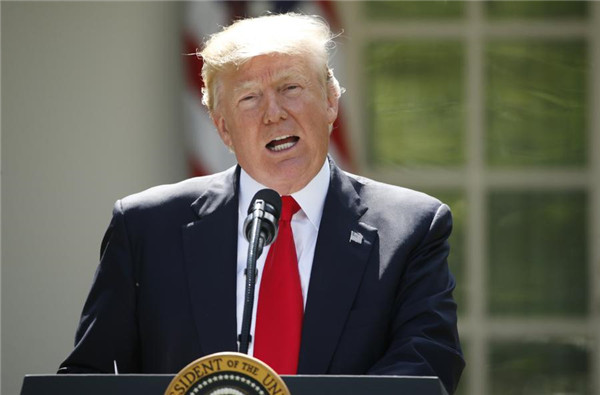 US President Donald Trump announces his decision that the United States will withdraw from the landmark Paris Climate Agreement, in the Rose Garden of the White House in Washington, U.S., June 1. [Photo/Agencies]
All of a sudden, the world's power balance is shifting, with China and to a lesser extent the European Union as the main beneficiaries. Most observers feel US President Donald Trump's rambling speech announcing the United States' withdrawal from the Paris climate change agreement marked a point at which he unwittingly yielded international influence to China, whose economy is steadily growing and is on track to become the largest in the world soon.
Newly elected French President Emmanuel Macron was quick to react after Trump's speech. Paying tribute to past ties between France and the US, he said he respected Trump's decision but at the same time assured US scientists working on climate change that they would receive a warm welcome in France. He urged the world "to make our planet great again".
And German Chancellor Angela Merkel said Europe would depend less on the US in the future, ahead of a meeting with Premier Li Keqiang in Berlin. "We are living in times of global uncertainty," she said, "and see our responsibility to expand our partnership ... and push for a world order based on law."
Li was quick to respond, telling her: "We are both ready to contribute to stability in the world."
But it is obvious to many that China is not desperate to take over the world leadership role. Rather, President Xi Jinping appears to be presenting a sober, steady, even reflective approach, similar to that offered by former US president Barack Obama, even though they followed completely different ideologies.
Many commentators said Trump's hesitating delivery of the speech seemed as if he were reading it for the first time. It was a speech which appeared to encourage isolation, peppered as it was with references to making "America great again".
There's more to the US' withdrawal from the climate pact than meets the eye: The process, under the agreement, will take until at least 2020, and domestically it's fair to say not everyone is behind Trump.
Two key advisers to the Trump administration, electric car entrepreneur Elon Musk and Disney head Robert Iger, both immediately pulled out of their roles.
In addition, 61 mayors throughout the US, representing more than 30 million people, signed an open letter in support of the Paris agreement. Interestingly, there are several states, including California, that already have strict rules on emissions, and because of the US federal system they are free to continue implementing them.
An old friend, author and journalist Gavin Bell, sent me a message after the Trump statement quoting a century-old Cree Indian proverb: "Only when the last tree has died and the last river poisoned and the last fish caught will we realize that we cannot eat money."
China and all the other signatories to the Paris agreement were quick to press ahead with their support for the pact. Trump may have dismissed climate change as a "Chinese hoax" during his election campaign, but statistics show some levels of pollution throughout China are falling, although the major conurbations like Shanghai and Beijing remain critical.
There is a similar story in the US, but many experts fear Trump's reversal of the country's stand may jeopardize any improvement, especially since he has pledged to revive the coal mining industry.
The author is managing editor for China Daily, Europe. chris@mail.chinadailyuk.com