SCO can now better promote regional unity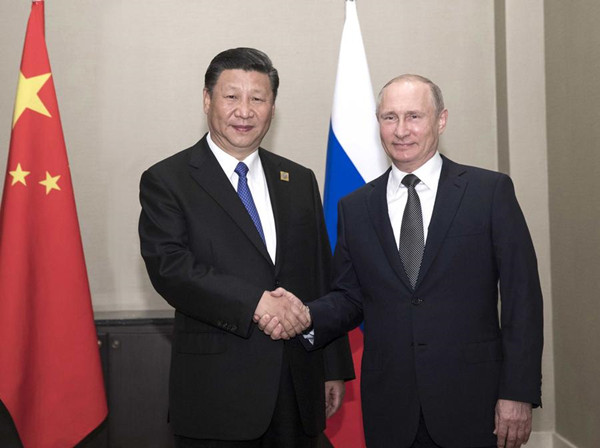 Chinese President Xi Jinping shakes hands with Russian President Vladimir Putin during their meeting as part of the Shanghai Cooperation Organization (SCO) summit in Astana, Kazakhstan, June 8, 2017. [Photo/Xinhua]
The Shanghai Cooperation Organization was expanded for the first time at the two-day summit in Astana, Kazakhstan, with the inclusion of India and Pakistan. The inclusion of the two major regional countries in the SCO demonstrates the organization's growing appeal.
After the expansion, the eight-member bloc will cover nearly half of the world's population and three-fifths of the Eurasian continent, which will greatly boost its role of promoting regional stability and prosperity.
Since its establishment in 2001, the SCO has faced numerous detractors and critics, who have questioned its motives and principles. Yet the organization's steadfast commitment to peace and economic growth in some of the world's most volatile countries has remained unshaken.
The reason for that is the SCO member states' shared need to maintain peace and security in the region, as well as foster faster economic development. These common interests outweigh the differences in their political systems, cultures, social compositions and levels of development.
With their inclusion in the SCO at the Astana meeting, which ended on Friday, India and Pakistan can more extensively share anti-terrorism intelligence with the other partners in the bloc. And given its mature multilateral mechanism, the SCO will help the two countries improve mutual trust and enable them to work together to combat their common enemy-terrorism.
Moreover, the SCO could also serve as a platform to promote the two countries' common need for economic and trade development, especially under the China-proposed Belt and Road Initiative framework.
Since "comprehensive cooperation at all levels as part of the regional integration process is unstoppable, India cannot keep itself from this general trend for too long, it will come and join (the Belt and Road Initiative) ... sooner or later", said Sun Zhuangzhi, secretary-general of the SCO Research Center affiliated to the Chinese Academy of Social Sciences.
And as Sheng Shiliang, a researcher at Xinhua Center for World Affairs Studies, said: "The SCO has never been just a security group. The Belt and Road Initiative offers a timely and convenient framework for the SCO members to facilitate connectivity and ultimately, achieve free flows of goods, capital, service and technology."
The impressive performance of the SCO over the past 16 years deserves greater global confidence in its ability to dispel doubts and bridge differences.
Now that President Xi Jinping and the leaders of other SCO member states have wrapped up the Astana meeting after expanding the bloc's membership, the world can expect the organization to more comprehensively promote regional unity in the quest for a more secure and prosperous future.
The author is a writer with Xinhua News Agency.