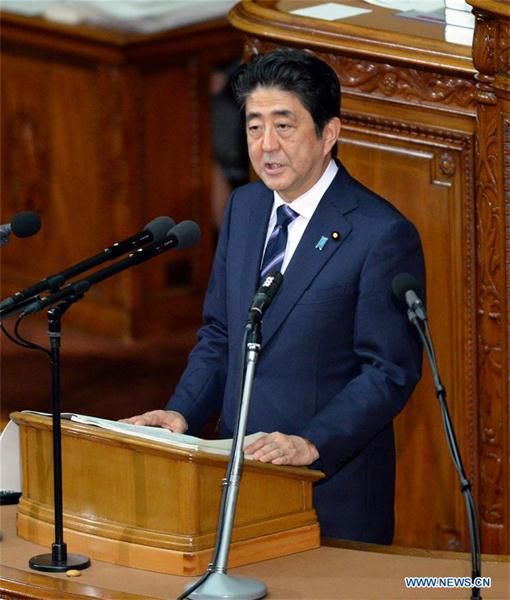 Japan's Prime Minister Shinzo Abe delivers a speech during an extraordinary parliament session in Tokyo, Japan, on Sept. 26, 2016. [Xinhua file photo/Ma Ping]
On Friday the Japanese government launched the "Premium Friday" campaign, which encourages people in Tokyo to leave the office at 3 pm on the last Friday of every month. It will be rolled out nationwide from April.
The initiative is supposed to be a stone to kill several birds, and it encourages workers to clock out early at least once a month in the hope of boosting consumption.
Japan's retail sales rose 0.6 percent in December year-on-year, lower than the median market forecast of a 1.3 percent increase. Weak consumer spending has dogged the Japanese economy, which has struggled to achieve steady recovery after decades of deflation and stagnation. The "Premium Friday" drive is expected to help employees strike a balance between work and life in the workaholic country where karoshi, or death by overwork, is back in the spotlight.
In late December the head of Japan's biggest advertisement agency Dentsu resigned over the suicide of Matsuri Takahashi, a young employee who leaped from a building to her death in December 2015 after going into depression because of overwork.
Japan issued its first white paper on karoshi in October, saying the cause of 93 suicides and attempted suicides in fiscal 2015 was overwork. Police statistics, however, show there were 2,159 suicides that could be attributed to problems related to overwork.
Legal cases filed over karoshi increased to 1,456 in the 12-month period that ended in March 2015, compared with 1,576 cases filed between 2004 and 2008.
A law to prevent karoshi was enacted in 2014, but its biggest drawback is that it has no provision of imposing penalties on companies that do not comply with it.
The Mainichi Shimbun blamed long working hours, rampant in many companies in Japan, for cutting deeply into employees' time, which they could spend with their families. Critics say this is one of the main reasons for Japan's low birthrate.
According to Japan's Health, Labor and Welfare Ministry, the number of babies born in the country slipped below 1 million-981,000, to be precise-in 2016 for the first time since records began in 1899. At its peak in 1949, the figure hit 2.7 million. The fall in the birth rate is so serious that Sankei Shimbun asked Prime Minister Shinzo Abe to declare Japan's population decline a national emergency and take action to revive it.
But this is not a problem Abe can solve easily.
Young people's declining interest in dating, marriage and having children remains a problem for Japan. Japan's National Institution for Youth Education released a report of a survey covering 4,000 men and women in their 20s and 30s across Japan in November. Of the unmarried respondents, 63.8 percent said they didn't want to get married because of economic difficulties, followed by 50.4 percent who preferred staying alone and 48.3 percent who said they were too busy with work to think about dating or marriage.
And a survey by the Japan Family Planning Association found that nearly half of the married couples were in a "sexless" marriage, or had not made love for more than a month. Worse, they didn't think the situation would change in the near future. Among married men, 35.2 percent said work left them "too tired" for "hanky-panky", up from 21.3 percent in 2014. The association's president, Kunio Kitamura, suggested Japan review the working conditions of employees, apart from reducing the working hours.
But this is easier said than done.
So far, compliance with the "Premium Friday" scheme appears to be low. The Japan Business Federation, known as Keidanren, has asked the 1,300 companies affiliated to it to sign up for the scheme. The problem is that there are 1.2 million registered businesses in Japan.
The author is China Daily Tokyo bureau chief.
caihong@chinadaily.com.cn