Star's appointment heralds better sports management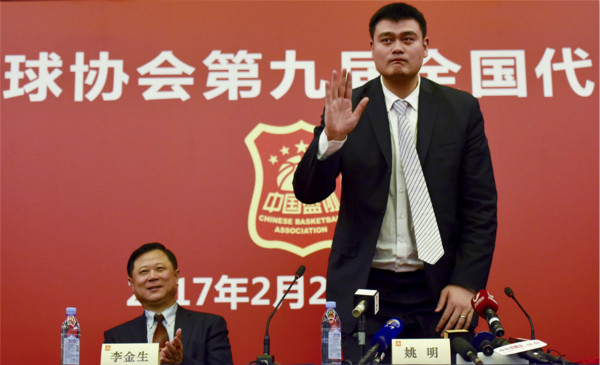 Yao Ming is elected as the chairman of the Chinese Basketball Association during the association's national congress on Feb 23, 2017. [Photo by Wei Xiaohao/China Daily]
Chinese basketball star Yaoming was elected chairman of the Chinese Basketball Association by a unanimous vote at the association's ninth national congress on Thursday. Thepaper.cn commented on Friday:
As the first head of the Chinese Basketball Association from outside its ranks, Yao is expected to breathe some fresh air into the top basketball governing body that is undergoing a management reshuffle.
In recent years Chinese basketball players have failed to impress their fans with their performances in tournaments at home and abroad. Nor are there any youngsters setting the courts alight. This has a lot to do with the excessive institutional barriers on club-to-club transfers.
Yao, who played for the Houston Rockets in the United States from 2002 until he retired injured in 2011, was voted a National Basketball Association All-Star eight times, and had long been hailed by many as the most apt candidate to be head of the Chinese Basketball Association, not just because of his successful career as a player, but also because of his expertise in running a basketball club. He bought his hometown club, the Shanghai Sharks, in 2009. He also led Team China to an all-time equally best of eighth place at the 2008 Beijing Olympics.
When it comes to picking the top decision-maker for basketball, it is difficult to find a candidate as resourceful and respected as Yao, in addition, his key aides are veteran basketball players or coaches, which means the association's management is now arguably the most "professional" in years. This heralds a significant move to separate the nation's sports associations from State control and leave the management to those in the know.
Still, it is worth noting that Yao's election is just the beginning of the long journey to professional sports management.