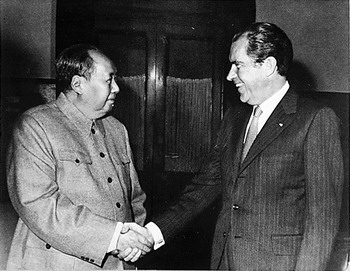 Chairman Mao Zedong meets then US president Richard M. Nixon at Zhongnanhai in Beijing on Feb 21, 1972. [Xinhua]
Tuesday marked the 45th anniversary of the historic trip to China by US president Richard Nixon, a trip that ended more than two decades of hostilities between the two nations and a trip that Nixon called "a week that changed the world".
As people keep speculating on how the China-US relationship might evolve under the administration of President Donald Trump, it might be useful to reflect on the wisdom, courage and vision Nixon showed back then.
In announcing his trip on national TV on July 15, 1971, Nixon said there could be no stable and enduring peace without the participation of the People's Republic of China and its 750 million people (now 1.3 billion), and that was why he had undertaken initiatives to open the door for more normal relations between the two countries.
Nixon stated that the trip was not directed against any other nation, saying "we seek friendly relations with all nations. Any nation can be our friend without being any other nation's enemy".
He said all nations would gain from a reduction of tensions and a better relationship between the United States and China. "It is in this spirit that I will undertake what I deeply hope will become a journey for peace, not just for our generation but for future generations on this Earth we share together," he said.
While some thought that the trip would help settle all the issues that existed between the two countries, Nixon was not naïve. In a talk with Dutch prime minister Barend Biesheuvel on Jan 26, 1972, he noted that the visit meant that the US and China would begin a process of getting to know each other.
He was well aware of the great gulf between the two countries in ideologies and even interests but he believed the two nuclear powers needed to find ways to talk and get along.
Nixon believed the contact would help reduce the chance of a confrontation between the two countries in the immediate future, such as the one they had on the Korean Peninsula and the one they had indirectly in Vietnam.
And as if knowing that China would rise on the world stage just a few decades later, Nixon said when China becomes a superpower and a nuclear superpower, having that kind of relationship meant it was not inevitable there would be a clash.
In a talk with US senators Allen Ellender and Michael Mansfield on Feb 29, 1972, immediately after his trip to China, Nixon pointed out that it was not shared beliefs that brought China and US together, but their common interests and common hopes.
Given his long anti-communist credentials, Nixon's move was politically incorrect at the time for many right-wing conservatives in the US. Nevertheless, he displayed courage in doing the right thing, even though it was not a popular move for many.
There is no doubt that the normalization of the relations started by Chinese leaders Mao Zedong and Zhou Enlai and Nixon all those years ago has helped ensure peace and stability in the Asia-Pacific and the world since.
Compared with the Nixon years, the common interests and challenges that require close cooperation between China and the US, the world's two largest economies, have grown dramatically.
They include everything from global economic growth, to counter-terrorism, climate change, epidemics and cybersecurity. The list goes on, not to mention a probably longer list in the ever more interdependent bilateral relationship.
Despite the wishful thinking of some, Chinese and Americans are not going to be the same, but they are much closer thanks to a relationship started by Chinese and US leaders 45 years ago.
Indeed, many of Nixon's words still sound quite relevant for addressing bilateral, regional and global issues today.
The author is deputy editor of China Daily USA. chenweihua@chinadailyusa.com