What is going wrong with Chinese higher education?
Editor's note: It's a pity that after three years of excitement, fun and mind blowing experiences in China, Jimilaoshi, a blogger on our website, recently made a hard decision to leave and not study a doctorate program in China anymore. Among the reasons Jimilaoshi cited were he couldn't understand the cramming methods of teaching in Chinese university and "too positive" textbooks. Furthermore, the culture that has been growing among Chinese scholars and students really bugs him. What on earth is wrong with the Chinese higher education system? For many Chinese who study in China since they're born, maybe it's really a serious problem which has been neglected for many years. If you also have something to say about Chinese higher education, you're welcome to leave your comments.
If you want to read more of Jimilaosi's article, please go to Why I cannot continue studying in China
John Young
Too many! I believe. Actually, the whole education system is in trouble! The student was tough to deal with the test, and the whole teaching ideology is oriented towards exam, and with these path the student is becoming a test machine, whatever they learn is for the final exam, the university entrance exam, the skills level test and so on.
After a higher pressure learning, those students would be admitted by the college. However, by the time they step into the campus, they almost put everything out of their mind, except relax themselves. What a funny story! People who spent almost all their adolescence fighting for an examination just to relax. Just like a bunch of people stumbled at one time and lose their way.
Once become a number of the schoolmates, they start to absent the class, not even care about the exam and develop computer addiction. This phenomenon is universal in most universities in China mainland. However, such a horrible situation still didn't take into the policy makers' consideration. Alone with this way, apparently, students accept nothing except a useless diploma. Lack of practice makes them incompetent for their job search.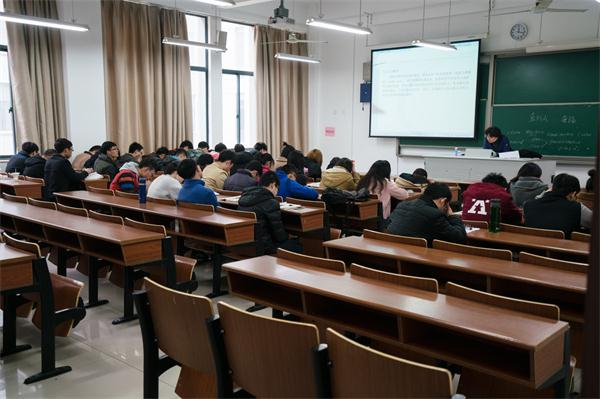 A teacher teaches English in a university located in Yangzhou,Jiangsu province on Feb.5, 2014. [Photo provided to chinadaily.com.cn]