Renting a partner for Spring Festival?
Editor's note: With Spring Festival just around the corner, the business of renting a boyfriend or girlfriend has emerged again, with customers paying up to 1,500 yuan ($219) per day not to face their demanding parents alone. Do you support hiring a partner for the Spring Festival? Forum readers share their opinion.
americantongue (US)
It's really an embarrassment to any society who needs to advertise to get dates. It's sad enough that parents have to go to the park and post profiles of their ADULT kids on boards as a means to get dates for them. Relationships of any kind should not be based on money or fraud. You might ask 'how is this fraud?' Because most of these people are BUYING dates, just to show off in front of their parents, so their parents won't hassle them when they go back home for the new year. This is not genuine or sincere. It's not honesty; it's deceit. Therefore, it's fraud.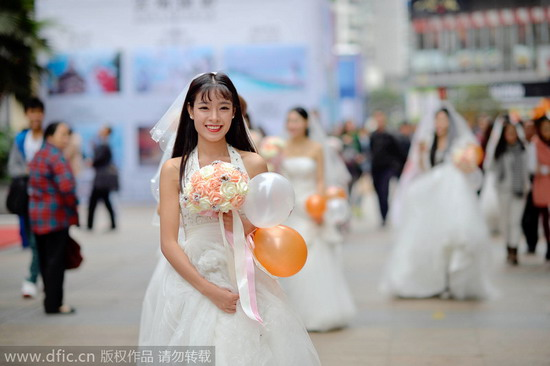 Single women dressed in wedding gowns walk at the Wanda Square before Singles' Day in Chongqing, China, on November 9, 2014. [Photo/IC]