How is General de Gaulle remembered in China?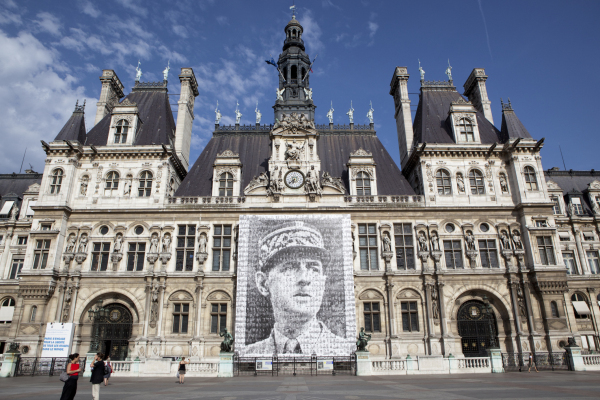 City Hall or Hotel de Ville with image of Charles de Gaulle.[Photo/VCG]
"No great man lives in vain. The history of the world is but the biography of great men"
Thomas Carlyle.
-----------------------------
A few months before his death on the 9 of november 1970, General de Gaulle expressed his wish to visit China.
Since France was the first western country to establish diplomatic ties with the People's Republic of China in 1964, Chinese leaders at that time were happy to welcome him. They also fondly remembered the famous General de Gaulle quote: "China is a big country inhabited by many Chinese".
While preparing for his trip, de Gaulle consulted several books thoroughly, such as "Man's Fate" by Malraux, his former Minister for Cultural Affairs, an in-depth description of the revolution that took place in Asia at the beginning of the century, "A Barbarian in Asia" by the Belgium novelist Henri Michaux, tales from Matteo Ricci, a Jesuit priest also called in Chinese Lì Mǎdòu (利瑪竇), and Pierre Teilhard de Chardin, philosopher and paleontologist.
Unfortunately, de Gaulle died abruptly from a seizure before his trip.
How is he remembered today in China?
There is no General de Gaulle in China but a man commonly called Dài Gāo Lè (戴高乐). According to current translations, in English it would read as follows: "The very tall", more likely, "the very great".
China holds a tradition of giving each foreign personality a name in Chinese.
Who decided the name for de Gaulle? Some said that at the request of Zhōu Ēnlái, an obscure civil servant selected this promising Chinese name.
Dài Gāo Lè is a widely known name in China even in most remote places. From Lanzhou to Taiyuan, the story is always the same.
When some guys asked me about my nationality, I answered joyfully: "Fǎ guó rén ! (法国人)"
My interlocutor asked with a broad smile if I meant làng màn. (浪漫)
Usually, làng màn reflects the French men behavior in China, something between romantic and libertine, which seems redundant.
I have to say that I am not very happy with this long-standing reputation. I'm not a "làng màn" no more than an Italian Casanova or a Spanish Don Juan.
So I asked the guy if he knows something more about my country than this stereotype, old fashioned assumption.
"Dài Gāo Lè," he replied gently.
"What do you know about him?" I asked, almost moved to tears.
"He is important in French history! (Zhòng yào de rén 重要 人). He took part in the war."
Generally the conversation stops at that point. That's all in the mind of the average Chinese man.
Once, a professor emeritus from the University of Changsha told me: He incarnated an ascetic and magnificent ideal, the so-called French pride. He epitomized the adage of "act locally for global impact". But now France is somewhat weak, uncertain, without a holistic perspective.
He added: Let's dream together! Let the rains come down upon you and cover France with life-giving water.
A writer from the city of Guangzhou made this significant statement: Beyond the sovereignty of each country, as a primary objective, Dài Gāo Lè life depicts a fairytale existence through a strong cultural heritage. Dài Gāo Lè is our spiritual connection to France. In a way, Dài Gāo Lè is rather like a Chinese hero within a safe and predictable world as we dreamed.
But he is not. At the "Millennium Center" in Beijing, the bas-relief of the history of China gathers only two renowned strangers, Marco Polo and Matteo Ricci but, indeed, those two are inextricable intermingled with Chinese history.
Because the French of today have mainly forgotten Dài Gāo Lè thoughts, above all his deep sense of commitment, exclaimed an old professor from the Tsinghua University, we, Chinese, we're going to dress him as a Confucius mandarin (guān). Then for the generation to come, Dài Gāo Lè will enter definitively into the Chinese pantheon.
Jùn mǎ 俊 马 (François de la Chevalerie, member of the Charles de Gaulle Foundation)