Xi's Davos speech continuation of China's global commitment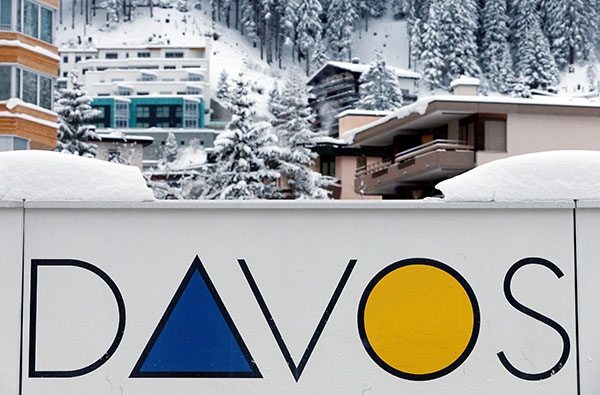 A Davos logo is seen before the annual meeting of the World Economic Forum (WEF) in Davos, Switzerland January 15, 2017. [Photo/Agencies] 
Editor's Note: China has been serious about playing a more contributive role on the world stage for quite a while now, so what we are witnessing today is basically a continuation and re-affirmation of this commitment to the world, said Hoo Tiang Boon, assistant professor at S. Rajaratnam School of International Studies of Nanyang Technological University in Singapore.
Speaking to China Daily website as the World Economic Forum got underway in Davos, Switzerland, Hoo added that China's responsible role is not a new phenomenon.
Here are the excerpts:
Q: The official Davos website points out that global events this year have reminded decision-makers that the more complex a system, the greater a community's concern about its future. The weakening of multiple systems has eroded confidence at the national, regional and global levels. And, in the absence of innovative and credible steps towards their renewal, the likelihood increases of a downward spiral of the global economy fuelled by protectionism, populism and nativism. What's your outlook for the world economy in 2017? How can we innovatively and solidly foster the renewal of the global system? What kind of responsibility do you expect China to take within that process?
A: The global economy will continue to be gripped by a considerable degree of uncertainty, primarily because of the continuing sluggishness of the developed economies, as well as anxieties over a more inward-looking world. Asia and the developing economies will be the main driving forces of growth globally.
The "renewal" of the global system is not a new question. This is in fact an ongoing issue that has been hampering global recovery since at least the 2008-2009 global financial crisis. We need to involve all the major stakeholders in a real conversation about the future of the global system. Clearly the existing system is not sustainable. It is fundamentally unbalanced in two ways. First, globally, emerging players such as China and India should have a bigger deciding role that commensurate with their growing economic sizes. Second, domestically, there should be more balanced and inclusive growth where growth is spread across all classes and sectors rather than benefitting mainly the elites.
Q: What kind of expectations do you have of China's role in global affairs?
A: As President Xi has amply demonstrated in Davos, China is ready to step up and take on a more active and responsible leadership role in the world. This is not because, as some Western media reports have asserted, it wants to "seize" the leadership mantle of the United States. I have been working on a new book on China's history and evolution as a responsible power, and my research finds that China's responsible power role is not a new phenomenon. For quite a while now, China has been serious about playing a more contributive role on the world stage, so what we are witnessing in Davos today is basically a continuation and re-affirmation of this commitment to the world.
Q: Martin Wolf mentioned in an article that behind the tendency towards economic growth lie two powerful forces: innovation at the frontier of the world economy, and catch-up by laggard economies. The two are linked: the more the frontier economies innovate, the greater the room for catch-up. An important longer-run possibility is that the underlying economic engine is running out of stream. Catch-up still has great potential. But core economic dynamism has declined. One indicator is falling growth in productivity. Another is ultra-low real interest rates. People are worrying about whether the advance of the frontier of innovation has in fact slowed. While what do you think about the two forces? Is it possible that China could maintain catch-up growth?
A: Philosophically, I don't think there is anything wrong with economic "catching up" per se. Because to catch up means that a country is improving, raising living standards. Indeed, countries that have "caught up" can provide competition to spur further innovation among the frontier economies. What is more worrying is when there is little innovation and dynamism in the frontier economies, causing overall global standards to drop.
Contrary to those bearish assessments that we heard last year at Davos—which have been proven wrong (and conveniently forgotten!)—I am more optimistic about the long-term catch-up prospects of China. At the end of the day, China's economic fundamentals are sound. Certainly there will be bumps along the road, but eventually China will get there. While there may be a debate on the rate of China's catch-up, the bottom-line is that China is catching up with frontier economies. More importantly, there is still much space for this growth. As a case in point, China's western regions have much room for further development, which is one of the reasons behind the push for the "Belt and Road" initiative, a win-win policy that will in turn galvanize the development of its surrounding neighbourhood.