Would you pack instant noodles when traveling abroad?
Editor's note: According to a study by Alitrip and wacai.com, 31 percent of Chinese tourists take instant noodles with them when they travel abroad. Another 58 percent buy them when they reach their destination. Is instant noodles on the must-have list of your overseas trip? Forum readers share their opinions.
BlondeAmber (Ireland)
It is sad that people don't try local food when travelling abroad - it defeats the purpose of being in another country if all you are going to do is eat your own food.
Apart from anything else, it can be illegal it import food in your luggage in some countries - if it contains any meat or fish parts (even processed meat and fish), and would mean the traveler could face fine and confiscation of the food. And yes you will have your luggage searched to find any imported food as it is a breach of local laws and a criminal offence in some countries. Most nations have places where noodles can be bought.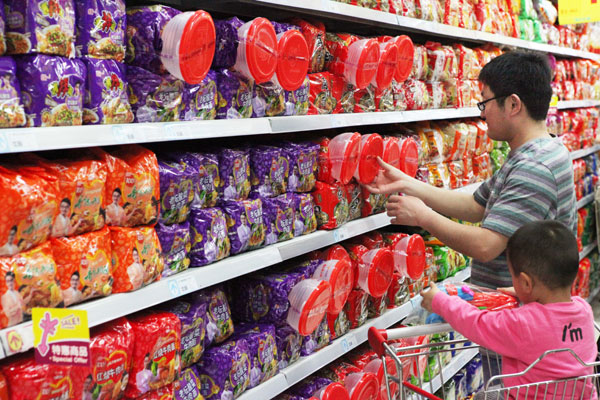 A man buys instant noodles at a supermarket in Ganyu county, East China's Jiangsu province, May 19, 2012. [Photo/Asianewsphoto]