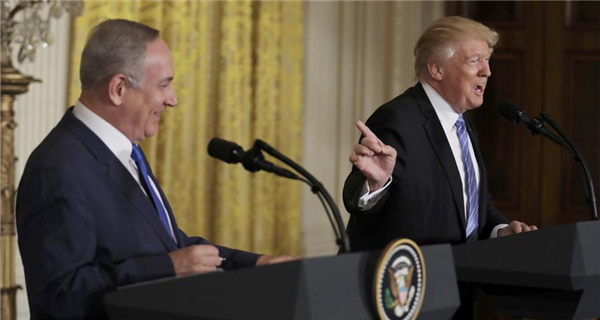 US President Donald Trump (R) laughs with Israeli Prime Minister Benjamin Netanyahu at a joint news conference at the White House in Washington on Wednesday. [Photo/Agencies]
US President Donald Trump has taken a lot of heat for stating in a "lengthy" and "extremely cordial" phone talk with President Xi Jinping last week that he would honor the one-China policy. He was mocked and criticized for "backing away from a fight" and "blinking first".
His critics seem anxious to stir up trouble between the world's two largest economies.
What Trump did is simply correcting a mistake he made in the past few months, when he spoke on the phone with Taiwan leader Tsai Ing-wen in early December, when he told Fox News a few days later that "I don't know why we have to be bound by a one-China policy unless we make a deal with China having to do with other things" and when he told the Wall Street Journal in January that "everything is under negotiation, including 'One China'".
Such a departure from the diplomatic protocol of China-US relations naturally drew strong protests from China, and rebukes from many in the United States, including ironically some who later chided him for his about-face.
Zhicuo nenggai, shan modayan is a Chinese proverb from a story about China's Spring and Autumn period (770-476 BC) more than 2,000 years ago, which is equivalent to the Western saying of "A fault confessed is half redressed."
Should we expect Trump not to reverse course but go down the wrong path of flirting with ending the one-China policy? That would spell disaster for the US, the Chinese mainland and Taiwan, and indeed the region and world.
Such a correction mechanism has also been seen with regard to the remarks of Rex Tillerson. During his confirmation hearing for secretary of state on Jan 11, Tillerson said China could be denied access to some of the islands in the South China Sea, raising speculation that tensions would escalate in the waters.
That speculation, however, was largely defused when US Defense Secretary James Mattis said in Tokyo early this month that the US does not see any need for dramatic military moves in the South China Sea.
The same diplomatic wisdom was exhibited by Trump at his joint press conference with Japanese Prime Minister Shinzo Abe last Friday. When a reporter from Sankei Shimbun, a right-wing nationalistic paper in Japan, asked how he intends to deal with China in the South China Sea and on currency, Trump did not take the bait, as his predecessor Barack Obama probably would have.
Instead, Trump emphasized that he had "a very, very good" conversation with Xi. "I think we are in the process of getting along very well. And I think that will also be very much of a benefit to Japan," Trump said.
Besides being diplomatic, Trump's answer reflects much-needed wisdom that was lacking in the Obama administration. Obama's rebalancing to Asia strategy was aimed at driving a wedge between China and its neighbors.
That zero-sum thinking has not faded away today despite the fact that Obama has stepped down. Many pundits and interest groups continue to peddle articles and research papers advocating that policy these days trying to influence Trump's policy.
Many Chinese were not sure about Trump at all before he took office, yet were willing to bet that a businessman is usually a realist who likes win-win game.
It's a big bet. But as long as the Trump administration discards the zero-sum mentality, and works with China to expand cooperation and manage disagreements, it might be a worth-while bet.
The author is deputy editor of China Daily USA.
chenweihua@chinadailyusa.com