Trump's way of dealing with foreign ties overly simplistic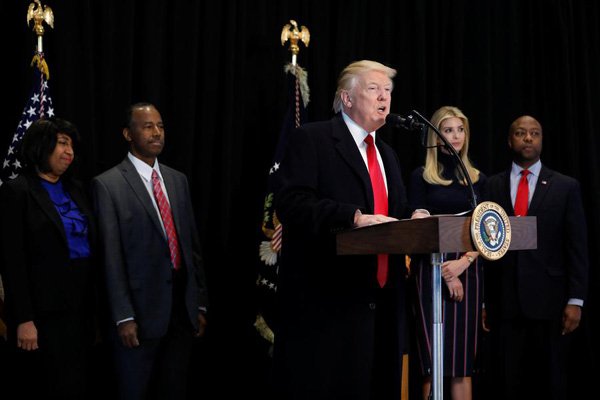 US President Donald Trump is flanked by Ben Carson (2nd L), his nominee to lead the Department of Housing and Urban Development (HUD), Carson's wife, Candy Carson (L), Trump's daughter Ivanka Trump (2nd R), and US Senator Tim Scott (R-SC) (R) as he delivers remarks after visiting the National Museum of African American History and Culture on the National Mall in Washington, US, February 21, 2017. [Photo/Agencies]
Except for the fact that it was bluntly straightforward, and the admission that he cherishes the "very good" phone call he had with President Xi Jinping, US President Donald Trump's interview with Reuters on Thursday displayed worrying misperceptions. Misperceptions that may mislead his China policies, even derail bilateral ties.
His claim that China's installation of defense facilities in the South China Sea "should not have been allowed" was not just Monday-morning quarterbacking. However, whether Washington likes it or not, as Beijing has stated, they are on Chinese territory, within Chinese sovereignty.
And since the International Monetary Fund found the value of the Chinese currency was broadly in line with Chinese economic fundamentals last year, it takes no additional defense on Beijing's part to call into question Trump's labeling China as the "grand champion at manipulation of currency". The US Treasury even reported in October that its view of China's external imbalances had improved.
Things also get trickier when it comes to the Democratic People's Republic of Korea. After all, Beijing's latest decision to suspend coal imports from the DPRK has immediately invited angry protest from Pyongyang.
Cutting off one of Pyongyang's most important sources of foreign exchanges will certainly deal a heavy blow to its nuclear-missile stunts. At least countries and observers and the US president believe so.
Pyongyang's strong sense of betrayal and furious denouncement of an unnamed "neighboring country" is being widely seen as a sign of effectiveness, or what Trump reads as China's "tremendous control" over its neighbor.
Never mind that Beijing, as it has repeatedly explained, has no control and never sought to gain control over the DPRK, or any other country.
It will take time for the frustrated Pyongyang to ultimately appreciate the good that Beijing has done it. It may be equally difficult for outsiders like Trump to appreciate Beijing's appeals for prudence.
But a sanctions-alone approach invites suspicions, not only of their effectiveness but also because of the subsequent moral dilemma. Beijing has been blamed for being reluctant to endorse tougher United Nations-endorsed sanctions, yet any sanctions regime devoid of due humanitarian concern is problematic.
Alongside each show of defiance, Pyongyang has been consistent in expressing its eagerness to talk. That means sanctions are not the only option available.
But the precondition for talks is Trump refrain from his overly simplistic approach to convoluted foreign policy issues, from the Korean Peninsula to the South China Sea to Taiwan to the renminbi.
As former US ambassador to China Max Baucus advised the Trump team, the US needs "thoughtful, considered" strategy for relations with China.