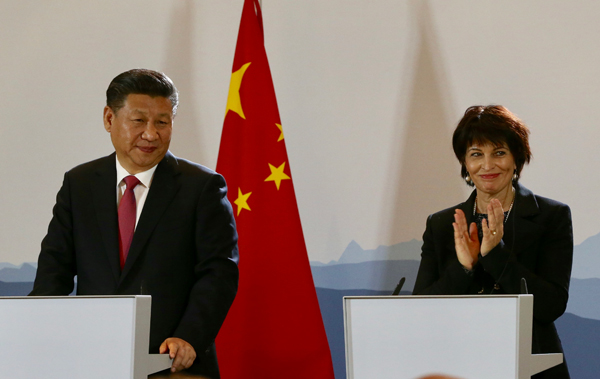 Chinese President Xi Jinping (L) and his Swiss counterpart Doris Leuthard meet the press after the two sides signed ten cooperative documents to boost cooperation in Bern, Switzerland, on Jan 16, 2017. [Photo by Xu Jingxing/chinadaily.com.cn]
  Western politicians often talk of shared values when seeking to convey the foundations for their partnerships. When they meet Chinese leaders, such an expression is rarely used.
However, Swiss President Doris Leuthard said openness is a "shared value" of China and Switzerland, ahead of President Xi Jinping's four-day state visit to Switzerland that began on Sunday.
And it is with this shared value that the two countries will explore the upgrading of their free trade partnership by further lifting trade barriers and waiving tariffs.
Leuthard's attitude should offer food for thought for those international businesspersons and politicians gathering in the tiny town of Davos to discuss global politics, the world economy and social issues at the 47th World Economic Forum annual meeting on Tuesday.
For years, China has been a focus of attention at the forum: warmly welcomed when the economic situation seems bleak and other countries are soliciting its support, or criticized when the global economy seems to be doing well.
When President Xi delivers his opening address at the annual meeting, the questions posed by the participants will mainly be how will China play a decisive role in solving the pressing challenges the world faces.
During the interviews with leading opinion leaders worldwide in recent days, they have all shown how curious they are about what will be in Xi's portfolio of proposals for reshaping global governance and tackling the rising trend of protectionism and isolationism.
In recent years, especially after Xi became China's top leader, this country has shown an ever stronger desire to engage with the international community and make positive contributions to shape better global governance.
No other country can compete with China in terms of offering new initiatives which are characterized by inclusiveness and openness, such as the Belt and Road Initiative, the Asian Infrastructure Investment Bank and the Silk Road Fund.
The Silk Road Economic Belt and 21st Century Maritime Silk Road not only represent China's further opening-up, but also greater regional and intercontinental connectivity. And this connectivity through infrastructure is also increasing the connections between different cultures and bringing people together.
Such a performance sheet is unfolding in contrast to the situation in some major Western countries where forces looking to roll back globalization and advocating exclusion are on the rise.
Western politicians should realize that openness and inclusiveness offer the greatest benefits.
For years, China has benefited from globalization by attracting global human resources, capital, knowledge and technology and in doing so its partners have also benefited.
But the key factor constraining the further development of these partnerships is the difference in ideology that means Western countries still talk of their shared values rather than values that can be shared by all.
President Xi will be elaborating on his proposal that all countries strive to establish a community of common destiny for all humankind during his trip to Switzerland, this is a vision of inclusiveness and openness that China hopes all countries can share.
It is time for countries to realize the real value is in sharing the fruits of development so all can enjoy them.
As Xi wrote in a signed article published ahead of his visit, citing the well-known Swiss poet and Nobel laureate Carl Spitteler, there is no greater happiness than having friends who share the same outlook and destiny.
The author is deputy chief of China Daily European Bureau fujing@chinadaily.com.cn