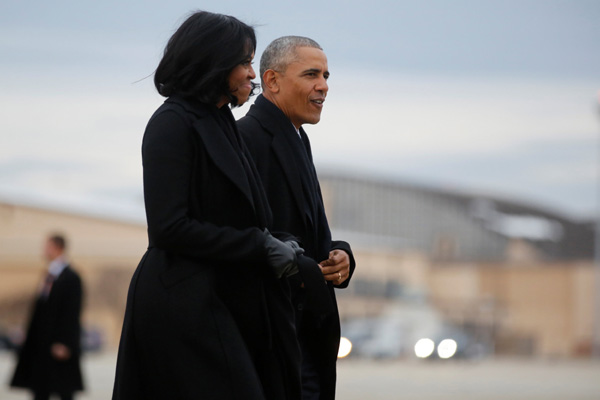 US President Barack Obama and first lady Michelle Obama arrive to board Air Force One for travel to Chicago to deliver a farewell address, from Joint Base Andrews, Maryland, US, January 10, 2017. [Photo/Agencies]
US President Barack Obama did not forget to poke China even in his farewell speech in Chicago Tuesday evening, saying that "Russia and China can not match our influence around the world unless we give up what we stand for."
On the same day at the United States Institute of Peace, National Security Advisor Susan Rice, with successor Michael Flynn by her side, declared that "failure to move forward on the TPP (Trans-Pacific Partnership agreement) is eroding American regional leadership and credibility, with China standing to gain strategically and economically."
Such unprovoked jabs once again reflect the zero-sum mentality of Obama and some of his aides on international relations. Under Obama, the geopolitical rivalry between the United States and both China and Russia has deteriorated. People never hear Chinese leaders using such toxic language about the US in their speeches to the Chinese public even though they have plenty of ammunition.
However unpredictable president-elect Donald Trump might be, I feel a bit relieved knowing that Obama only has less than 10 days in office, so I don't have to hear him yelling again "the US, not China, should make the rules".
A Pew Center survey a year ago showed that only 38 percent of Americans have a favorable view of China, compared with a global media of 55 per-cent across 39 countries. That in part has to do with the toxic rhetoric about China frequently spewed out by Obama and other US politicians.
For these politicians, demonizing China is a good distraction from the US' own problems.
While Obama touted the US was the world's wealthiest and richest nation on Tuesday, what appeared in my mind is the homeless on the street in freezing winter days in Washington and New York City. The Washington Post reported that the number of homeless families in the US capital has soared by more than 30 per-cent compared from a year ago.
Most Americans don't have a sense of the real picture of international affairs, especially China-US relations, after hearing repeatedly the toxic rhetoric from their politicians.
For example, the US-China Business Council, which represents more than 200 US companies in China, released a report on Tuesday on US-China trade relationship. The report finds that the rhetoric about the negative impact of China on US economy is both misleading and exaggerated.
Instead of killing US jobs, it finds trade with China is responsible for the creation of 2.6 million American jobs. Trade with China has helped boost US economic growth and helped a typical US household save up to $850 in 2015. Meanwhile, the trade deficit, which Trump likes to fear monger, is grossly over-exaggerated.
It is a report that speaks very positively of the US-China economic relations. However, when I asked USCBC President John Frisbie why US leaders such as President Obama have never talked about these huge positive aspects to the US public, he politely chose not to answer the question.
It is despicable that Obama and other US politicians, who are well aware of the hugely mutual beneficial trade relations, have chosen to keep silent all these years while letting fake news and misinformation about bilateral trade relations spread and indeed spreading themselves.
It is no secret that US politicians like to use fake news and misinformation to their own advantage. People have seen plenty of the tricks in the last presidential election cycle. Now after the election, Democrats and Republicans are fiercely accusing each other of disseminating fake news.
It is time to stop the spreading of fake news and misinformation about China-US relations.
The author is deputy editor of China Daily USA. chenweihua@chinadailyusa.com