Foreign media on Xi's attendance at Davos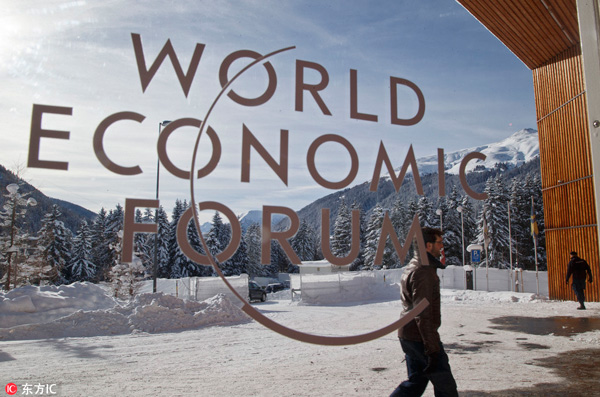 A man walks at the main entrance of the congress center where the World Economic Forum takes place in Davos, Switzerland, on Jan 18, 2016. [Photo/IC]
Editor's note: President Xi Jinping has arrived in Switzerland for his first meeting of the World Economic Forum, a major annual gathering of global political and corporate leaders.
As the president is set to offer China's vision on domestic economy and global governance, let's take a look at what foreign media is discussing about this year's meeting.
"The Chinese president is expected to use his speech on Tuesday to enhance his status as one of the few responsible adults left standing on the global stage, committed to protecting progress made over recent years on everything from climate change to free trade."
-China's Xi set for star turn at Davos gathering
Financial Times, Jan 15
"In an opening address to the conference in the exclusive ski resort, Xi will defend globalization as US President-elect Donald Trump's threatens trade barriers and a US retreat from international deals. Xi will warn other world leaders, business executives and celebrities that the rise of populism could lead to 'war, poverty, confrontation and domination' as he takes on the mantle of defending globalization."
-Xi Jinping to become the first Chinese president to attend WEF in Davos
Guardian, Jan 11
"The trip comes as China casts itself as an advocate of globalization in the wake of Donald Trump's election as US president on an 'America First' platform that was critical of free-trade deals."
-Xi to Lead Delegation of China's Wealthiest Executives to Davos
Bloomberg News, Jan 10
"China has benefited greatly from access to international trade markets since its entry in 2001 into the World Trade Organization, and it could now become the most vocal proponent of that system."
-As China Seeks Bigger Role on World Stage, Xi Jinping Will Go to Davos World Economic Forum
New York Times, Jan 10
"The divisive US election and President-elect Donald's Trump's 'America-first' approach presents China with a chance to extend its global sway and present itself as a force for stability."
- Xi to Stress China's 'Responsible' Global Role in Davos
Wall Street Journal, Jan 11