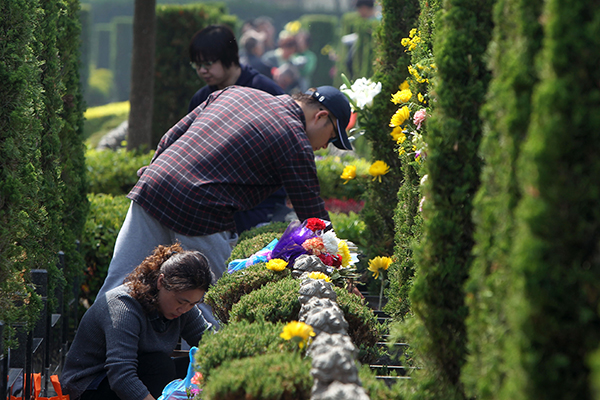 Mourners offer flowers at a cemetery in Shanghai. [Photo/Xinhua]
My father passed away early last month at the age of 86 in a hospital in Beijing, one month after being diagnosed with pancreatic cancer. While heartbroken to see him pass away, the occasion provided me with a rare chance to take a close look into an industry that is largely ignored by most people-understandably because death remains a taboo subject-yet is so closely related with every one of us.
To be fair, the funeral business works well, with efficiency and humanity. We got everything done within two days. A video clip of my father's pictures was shown on a screen at the memorial ceremony; and I felt I should thank the cosmetician profusely for the work he or she had done on my father to make him look his possible best, as if he was just asleep.
The products and services that are offered come with a price tag that plays on the psychology of one-time consumers. The rules that govern the behavior of consumers, who are often price-sensitive, don't apply here anymore.
The undertaker's, the largest in Beijing, offers a wide array of choices to bereaved family members, including burial clothes, wreaths, coffins, caskets, hearses and cremation.
Wreaths made of paper flowers can be rented free, but those made of fresh flowers come at 700 yuan ($102.5) each. Couplets on the wreath, either printed or handwritten by calligraphers, are 20 yuan each.
The prices of caskets range from 200 yuan to around 25,000 yuan. Coffins cost between several hundred yuan and tens of thousands. But if you want a better cremation for your beloved one you have to buy a more expensive coffin, said to be made of hard wood that can be burnt only in furnaces with higher-temperature and vaporization levels.
People are usually ready to dip deep into their pockets under such special circumstances, because they think doing otherwise would diminish their sense of sorrow, or even mean disrespect for the deceased. After all, for most people the experience is just once or twice in a lifetime, and they usually don't care about how much they spend.