Employers have legal duty to pay their workers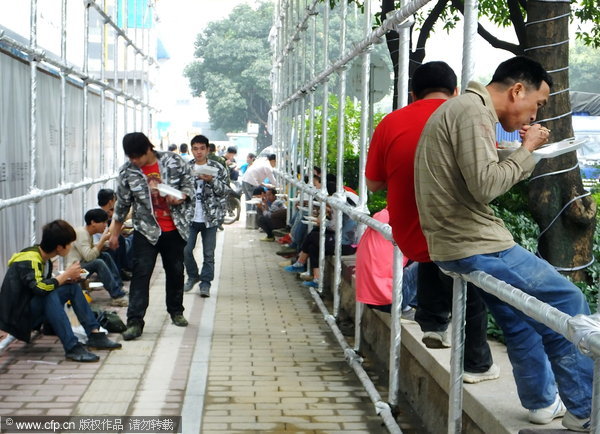 The migrant workers are having lunch in Guangzhou, South China, May 16, 2013. [Photo/CFP]
TWELVE MINISTRIES, including the Ministry of Human Resources and Social Security, have issued a notice saying that a special inspection is being carried out between Nov 15 and Jan 28, before Lunar New Year. The inspection is aimed at ensuring migrant workers receive their due wages. Xinhua Daily Telegraph commented on Wednesday:
The special inspection showcases the central government's determination to protect migrant workers' legal interests and hold accountable employers that refuse to pay their workers on time and in full.
However refusing to pay employees was included in the Criminal Law five years ago, and special inspections have been conducted near Spring Festival in recent years to preempt employers from deliberately not paying their workers.
But that has not been enough as there are still reports of migrant workers remaining underpaid or unpaid.
Migrant workers have every reason to enjoy the dividends of the country's rise to be the world's second-largest economy, not least because they have been an indispensable part of it. Needless to say they should receive their deserved payment. But for that to happen, it requires not only the sympathy of employers. Better implementation of the law is called for to help these workers, who have limited options to defend their rights if their employers do not pay them.