Bridging the digital divide: From Wuzhen to Nzulezu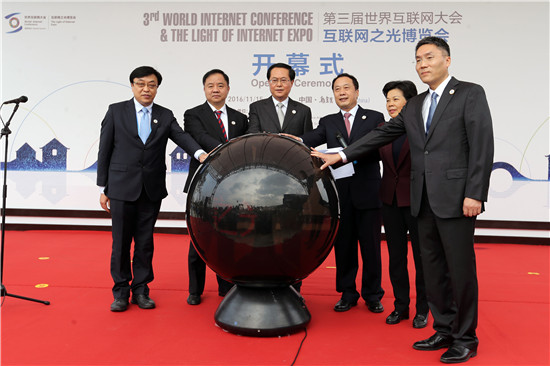 The Light of Internet Expo opens in Wuzhen, East China's Zhejiang province on Nov 15, as a part of the 2016 World Internet Conference.[Photo by Wang Zhuangfei/China Daily ]  
As the Third World Internet Conference is held in Wuzhen, Tongxiang of East China's Zhejiang province from Nov 16 to 18, observers and stakeholders around the world, 'excluding' my brothers in the small water town of Nzulezu, Ghana would watch closely as global policy makers shape what has been described as the 'internet of things' in the right direction for the prosperity of humanity.
These two towns have only two shared themes. That is, they're both water towns and popular tourist destinations. The stark difference lies where Wuzhen serves as the hub of everything internet and the bastion of internet connectivity in China, Nzeluzu on the other hand remains devoid of everything internet.
From big data, internet plus, smart manufacturing and everything internet, small businesses, and most developing countries have been left out of the global digital economy. The need to bridge this digital divide has come at a time when it is needed most- to salvage and decentralize the hugely monopolized global trade and economy.
Although for example most countries in Africa are at the bottom of the race to reach full connectivity and the new frontier in the global digital economy, internet access is now available in capital cities of all countries on the continent, and the impact of new information technologies is gradually spreading to other urban areas. What impedes the growth of the internet in developing countries – for example, if connectivity is to reach a town like Nzulezu – includes high illiteracy, poor telecommunications infrastructure, shortages of trained personnel, and reluctance by governments to allow development of independent service providers.
The theme for this year's World Internet Conference "Innovation-driven Internet development for the benefit of all- building a community of common future in cyberspace" encapsulates not just the vision of mankind's quest to integrate economically through cyberspace but also the problems that impedes that quest- which is the current standing world economic order where multinationals from developed nations bully small businesses and developing countries from share of global trade.
Policies geared towards breaking these barriers should take center stage, as envisioned by Jack Ma, the founder of e-commence giant Alibaba, who has proposed the building of a new global e-commerce platform dubbed the Electronic World Trade Platform, or e-WTP, a move that would undoubtedly change the way the world does business. As Ma envisioned at the BOAO Forum for Asia in March this year, the establishment of the e-WTP could break down existing trade barriers and enable small and medium enterprises, young people and developing countries, which have been largely left out of the world's free trade regime to share equitably profits from global trade.
Making the e-WTP possible, fair and equitable boils down to the question of who controls the internet. The controversy over who should control the internet had lingered on for many years until March this year when a deal was brokered between the Internet Corporation for Assigned Names and Numbers (ICANN) founded in 1998, to end direct US government oversight control of administering the internet and commit permanently to a multilateral treaty with stakeholders from governments and oversight by the UN.
According to analysts, this move has set the center stage for further penetration of the internet, with global governance body Internet Assigned Names Authority (IANA), the part of ICANN that deals with country codes, internet numbers and protocols ceding its oversight control to the UN. A liberalized internet has come at a time when entrepreneurs worldwide are seeking to own a simple website store, connect with other businesses around the world and make a decent income.
It is based on the idea of creating decent income streams for entrepreneurs as big tech players such as Alibaba, Facebook, Microsoft and others build logistics and ecosystems that could reach even the most obscure locations around the globe. Facebook for instance is taking free wireless connectivity to Africa to make internet accessible to deprived communities. Several tech giants from China are also making inroads into Africa, South East Asia and other underdeveloped nations.
In building a community of common future in cyberspace, governments in most developing countries arguably cannot foot the bill alone, which why innovation and internet driven development from global tech companies are welcome everywhere.
Observes will also be watching how civil liberties are protected across the globe. That if the right to internet is a human right, how would governments around the world provide access and protection of this right. Participants at the forums will also be faced with the daunting task of improving regulations geared towards ensuring cyber security, Nonetheless, I believe the conference as it has always been, will showcase incredible new innovations and improvements in technology during the three-day expo. My concern however is how these new innovations and technology could become readily accessible to my brothers in Nzulezu.
Development and transfer of technology however has always followed a trickle-down effect - that is why I would like to see the upcoming conference in Wuzhen be a game-changer and stay true to the theme in all aspect with regards to decentralizing the global digital economy and therefore changing global business in its entirety.
The author is a Ghanaian Journalist.