After the Trump triumph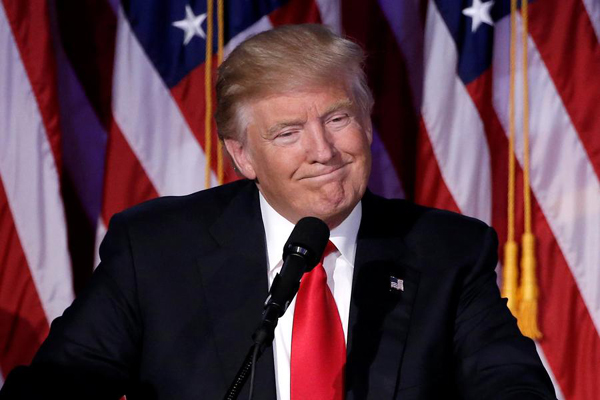 US President-elect Donald Trump speaks at election night rally in Manhattan, New York, US, November 9, 2016. [Photo/Agencies]
The Trump victory was a "stunning surprise" to Washington and mainstream media. But it was very much in line with voter distrust in both the Clinton and Washington ruling class.
Politically, Americans are fed up. In cooperation with the Democratic National Committee, the Clinton campaign had far too cozy ties with Wall Street, neoconservatives and Pentagon contractors, as well as mainstream media organizations; from CNN and New York Times to Huffington Post and Google.
In turn, House Republicans demand a special prosecutor to investigate the Clinton Foundation, which former New York City mayor and Trump supporter Rudy Giuliani has called a "racketeering enterprise" that should be prosecuted as such. Indeed, Republicans have promised to investigate the role of the State Department, the Department of Justice and the FBI. In turn, Speaker of the House Paul Ryan has promised "aggressive oversight work" of a "quid pro quo" deal between the FBI and the State Department over emails, while chair of the House Oversight Committee Jason Chaffetz has been pushing for "new hearings."
It will be interesting to see whether Republicans will walk the talk - unless, of course, the idea of "post-election healing" is understood as a license for collective amnesia.
The demise of US-EU cooperation - and NATO?
The Trump triumph is a belated acknowledgment of America's malaise. However, as he vows immediate action on executive orders, it is not entirely clear, whether the Trump medication will alleviate or worsen America's economic angst. His campaign promises have potential to add to rather than reduce America's $20 trillion sovereign debt burden.
What is certain is that, economically, most Americans' wages have stagnated since the 1980s. Politically, the Congress enjoys credibility only among 10-20 per cent of Americans. In security matters, most Americans do not believe that US should play the role of "world police" internationally.
Since the postwar Marshall Plan and the creation of the North American Treaty Organization (NATO), US-EU relations have been characterized by extraordinarily close economic, political and security cooperation. Nevertheless, the eclipse of the Cold War has given rise to a set of bilateral conflicts in trade and investment that go beyond longstanding economic disagreements.
Typically, President Obama was able to achieve the Trans-Pacific Trade agreement (TPP) in Asia, whereas the Transatlantic Trade and Investment Partnership (T-TIP) with Europe has proved far more complicated. Hillary Clinton supported the new "Cold War" against Russia, which has contributed to Europe's economic stagnation. In contrast, Trump believes he can 'handle' President Putin. He prefers international stability to imperial democracy promotion.
Bilateral US-EU friction is most evident in Trump's NATO criticism. As far as Trump is concerned, NATO members have failed to meet the 2% spending target of their GDP on defense. When he has criticized NATO for being "obsolete," he has simply posed questions that many US leaders - including nation's top military chiefs - ask behind the facade.
As Trump puts it, "Either they pay up, including for past deficiencies, or they have to get out. And if it breaks up NATO, it breaks up NATO."