Continue interactions with US to fight climate change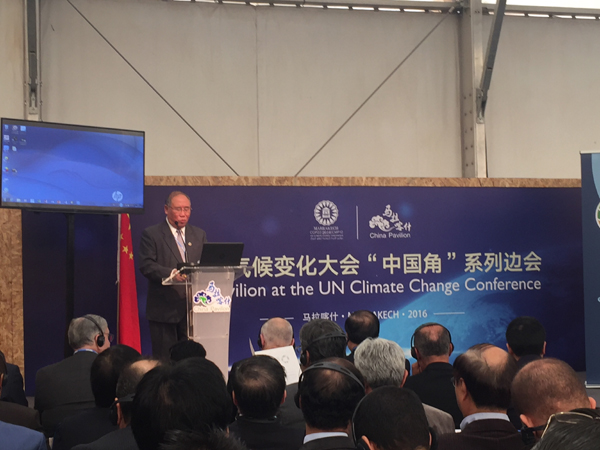 Xie Zhenhua, China's special representative of climate change, speaks at the High-Level Forum on South-South Cooperation on Climate Change on the sidelines of the United Nations Climate Conference on Nov 14. [Photo by Wang Yanfei/chinadaily.com.cn]
What will be Donald Trump's impact on Sino-US cooperation on climate change after he is sworn in as US president in January?
According to the Paris climate change agreement, the US has promised to cut its greenhouse gas emission by 17 percent by 2020 and 26 to 28 percent by 2025 compared with the 2005 level. That target cannot be realized unless the US honors its commitment by taking appropriate action.
To meet its promise, the US has to transform its power plants, currently the largest greenhouse gas emitters, into green sources of energy. But that seems unlikely, because the US Supreme Court has decided to postpone the move.
Nevertheless, certain US states and industries have already started taking measures to reduce emissions, and their policies and actions might in turn influence the US federal government's eventual decision. For example, the percentage of coal-generated electricity in the US' power industry mix dropped from about 50 percent in 2008 to 33 percent in 2015 thanks to the "shale gas revolution". And thermal plants were using greener power-generating methods. Therefore, there is reason to be optimistic.
Besides, some experts say that almost all US presidential candidates play the "China-card" during the election campaign, yet after entering office, they maintain good relations with China because it is in the best interest of Washington.
It is uncertain whether Trump will act on what he said during his campaign-of taking action against China if he won the presidency. But whether or not Trump honors the Barack Obama administration's promise to fight climate change on a priority basis, Beijing has to continue its dialogue and interactions with Washington on the issue, because by pushing joint efforts forward, it will serve the common interests of all as well as increase its global influence.
Therefore, China should continue its global multilateral climate governance and stick to the Beijing-Washington cooperative framework. Fighting climate change is important on multilateral platforms, not least because China has gained a leadership status on the issue. It's time China made good use of that leadership and strengthened global cooperation.
Besides, if the China-US cooperative mechanism comes to a halt, China should encourage cooperation at the local governmental level and through unofficial channels. For the past several years, Chinese and US cities have forged cooperative relationships to fight climate change, and the two countries have made joint statements on climate change. China should make better use of such cooperative mechanisms to deepen China-US cooperation.
In other words, whatever policy the incoming Trump administration adopts, China can always deepen its cooperation with the US to fight climate change because that will not only serve the interests of both sides, but also expand Beijing's global influence.
The author is director of International Cooperation Department in National Center for Climate Change Strategy and International Cooperation.