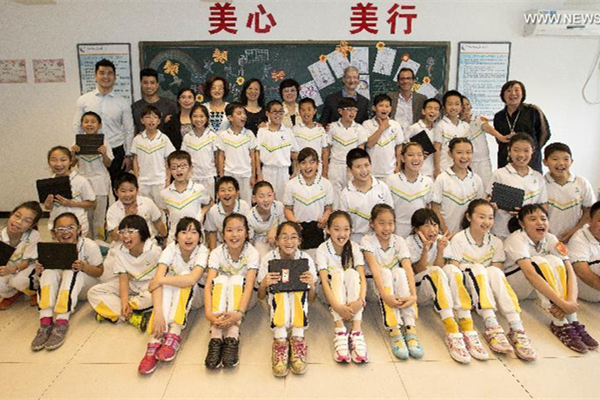 Tim Cook (back, 2nd R), CEO of Apple Inc., poses for a group photo with teachers and students at the Primary School attached to Communication University of China in Beijing, capital of China, May 12, 2015. [Photo/Xinhua]
Will you buy a 10-square-meter hallway in Beijing for 1.5 million yuan ($224,300)?
This seemingly absurd price was actually listed on the website of Homelink, the largest real estate agency in the capital. But why?
The hallway in Beijing's Xicheng district was shabby but it had independent property rights-and the children of the hallway's owner could seek admission to Beijing First Experimental Primary School, one of the best in the city.
The hallway is the latest example of the craze for buying houses near "good" primary schools. News of astronomical prices for such houses have been making headlines to the chagrin of parents. And since the average property price near the Beijing First Experimental School has reached about 150,000 yuan per sq meter, the hallway seemed a good bargain.
Although the news created an uproar and the Beijing housing authorities ordered Homelink to stop promoting "constructions that are not designed for living purpose", those who buy such properties often do not care much about their living conditions.
For parents who don't have connections but also don't want their children to study in "ordinary" primary schools near their homes, buying a house near a good school offers an expensive but easy solution to their problem. Cases of families selling their spacious houses to buy shabby properties near "good" schools are not rare, even though a "good" primary school does not guarantee good academic performance for a child.
Despite this, many Chinese parents don't want their "children to lag behind at the starting line". For such parents, compromising their living conditions is nothing compared to the prospect of sending their children to a "good" school. No wonder the demand for and prices of houses near such schools have continued to rise.
Perhaps the uneven distribution of education resources is to blame for the problem. The so-called good schools, which are limited in number, often get more government funds and resources than the rest. As a result, the problem refuses to die.
Earlier this year, the central education authorities announced a new policy to tackle the problem. Instead of going to the school closest to their community, children can now seek admission to several schools nearby. This gives the impression that parents now have a wider choice. But this has increased the worries for those who have bought houses near their target schools.
Besides, not all students can get admitted to a school of their choice that is within walking distance from their homes, because the school authorities will have to pick and choose candidates if there are more applications than the seats on offer. For instance, a person who bought a house near a school shortly before the admission season will be rated lower than those who have been living in the community for a long time. Also, a school can change its admission plan each year. All this creates a huge risk for people who have paid sky-high prices to buy a house near a "good" school.
Buying a house near a "good" school and managing to get a child enrolled in it are like gambling on a stock exchange, so people should weigh the pros and cons carefully before doing so.
The gap between the increasing demand for better elementary education and the limited number of "good" schools cannot be bridged in a short time. Still, the government should allot more funds for education and try to distribute education resources as equitably as possible. And providing better salaries for good teachers who serve in not-so-good schools could be one way of kick-starting this process.
The writer is an editor with China Daily. lifangchao@chinadaily.com.cn