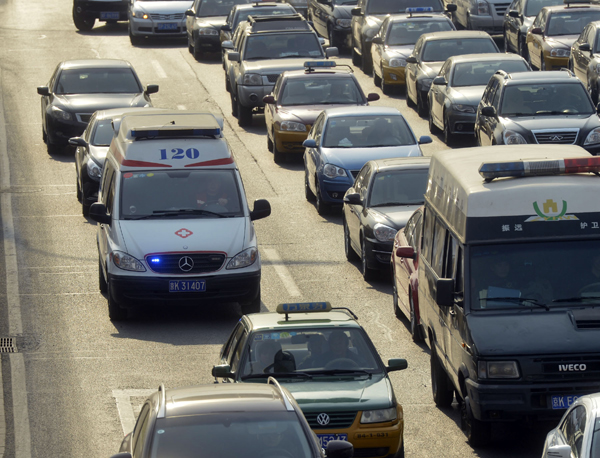 An ambulance is seen in a traffic jam during the morning rush hour in Beijing on Monday. [Photo by Yang Yi / For China Daily]
The family members of an 80-year-old Beijing resident who required an emergency ambulance were asked to help carry the stretcher. The Beijing Times comment-ed on Thursday:
An ambulance responding to an emergency should contain at least five people: a doctor, nurse, driver and two stretch-er-bearers.
But that is very rarely the case in China.
In recent years, some Chinese cities including Kunming, Nantong and Beijing, have tried to ensure ambulance teams include full-time stretch-er-bearers. But it is difficult to find a balance between cost and income, so few people are willing to do the job.
In this instance, the ambulance had a four-person team, as there was only one stretch-er-bearer. When there aren't two stretch-er-bearers the question is who will carry the stretcher.
In China, it's mainly family members who have to fill those shoes.
Although stretcher-bearing does not require any technical knowledge, it does involve considerable responsibility, especially in older buildings with no elevators and where the staircases are narrow and steep.
Letting family members be involved in handling the stretcher means they assume shared responsibility.
Of course, this is only in an emergency, and it should not be required of elderly family members.