Editor's note: With Fathers' Day around the corner, forum readers have shared stories about their fathers. You're welcome to join in on the Fathers' Day celebrations.
Swifty55 (US)
My Dad worked hard but was a fun loving man. Remember when my dad worked 4 pm to midnight shift. I was 8 at the time. I put our dogs left over can food in a dish and into the fridge. In the morning at breakfast my mom asked what happened to the dog food Dave put in the fridge? My Dad said Dog food? I thought it was canned hash and ate it fried with my eggs. I was laughing and Dad said what's so funny it was very good. Then all 5 of our family members bought Dad canned dog food for his birthday as a joke. Was a funny and happy birthday for Dad. Now he has been gone many years but I will always remember this time and the Love he had for his kids and wife.
Another funny thing Dad did. We all were taking a local bus home from a movie night as a family. A lady said hello to my Dad and he said do I know you. She said yes I work as a nurse where you are the maintenance man. Oh he said (she was not in her nurses outfit), so he said I did not recognize you with clothes on. The look on our Mom's face made us laugh for a long time. Dad never understood what he said that was so funny.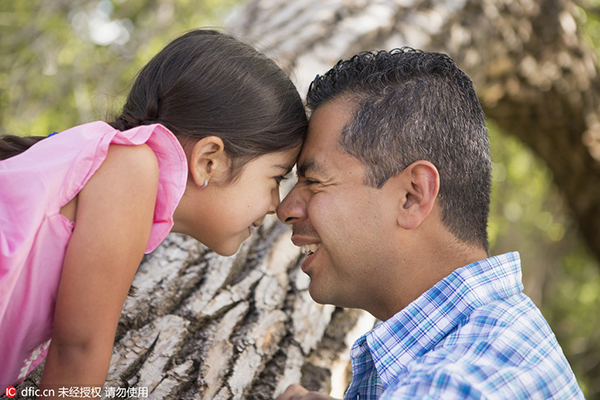 A father and daughter pose for a photo by a tree in the park on July 16, 2014. [Photo/IC]