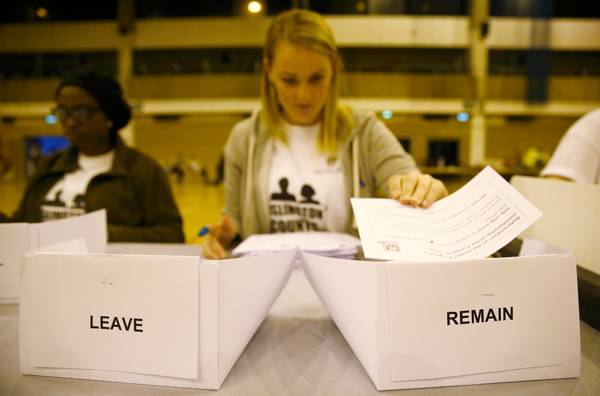 A worker counts ballots after polling stations closed in the Referendum on the European Union in Islington, London, Britain, June 23, 2016.[Photo/Agencies]
In the end, it was a close-run thing. British voters went to the polls on Thursday in a referendum on whether or not to stay in the 28-member European Union, and by saying "No" blew the whole question of the EU's future wide open.
Relying on a mix of calls to patriotism, fear of unlimited immigration and suffocation by what it sees as the EU's red tape and petty rules, the "Leave" campaign, headed by the maverick former mayor of London Boris Johnson, just had the edge.
But once the flag-waving and celebrations die down, Britons are going to be left wondering just what they have let themselves in for.
Partners such as China, with whom the UK is currently enjoying a "golden age", according to Chinese President Xi Jinping and British Prime Minister David Cameron at the end of Xi's state visit to the UK last October, must be wondering what comes next. One estimate currently doing the rounds is that it will take 500 British officials and 10 years to negotiate a fresh trade deal with China. And then there are the Chinese investors who, according to a couple of surveys by real estate companies, were holding off on decisions to buy property in the UK.
Much has been made of the Chinese theory that the UK acts as a sort of bridgehead for the EU-it is an inescapable fact that setting up a business in the UK involves far less red tape than places such as France, Germany or Italy.
So what happens to that theory now? No one knows.
In fact the only thing that is certain is that years of chaos will ensue as the various ties that have bound the UK to the EU are painstakingly untied.
But that's not all. The can of worms that Cameron opened with what many are now calling a singular lack of political judgment contains another nasty surprise.
Scotland, which voted mainly in favor of remaining in the EU, is now expected to clamor ever more loudly for another referendum on independence. Those in favor of independence took 44.7 percent to the "Remain" camp that took 55.3 percent in a Scottish plebiscite. It may have caused a resurgence of the Scottish Nationalist Party, which holds an overwhelming majority in Scotland's devolved national assembly.
The SNP's argument goes that as it wants overwhelmingly to remain in the EU, therefore it should be allowed to go its own way. In other words the UK's hapless prime minister has managed, with his decision to hold the EU referendum, to raise divisive voices in the country, threaten the future of the EU, divide his own party, as well as usher in months of uncertainty.
The author is managing editor, Europe, for China Daily. chris@mail.chinadailyuk.com