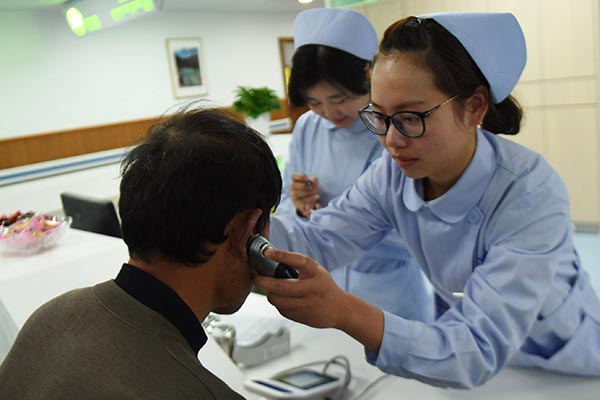 A nurse measures body temperature of patients at a medical center in Hangzhou, Zhejiang province. LONG WEI / FOR CHINA DAILY
Two days ago, I returned home from a 13 day stay in the hospital in Zhengzhou. I was admitted to Central Hospital of Zhengzhou on June 3. I had surgery the next morning and another one 10 days later. I was in the 'proctology' ward, so, without going into the morbid detail of what was wrong with me, I'll leave it to your imagination of what I was suffering from. More than anything, I had the most intense pain than I've ever experienced in my life except for perhaps kidney stones that I had several years ago.
Dr. Li, Dr. Pan and Dr. Hou were not only my attending physicians, but also, my surgeons. Dr. Li was my primary doctor.
Hospitals are a bit different in China than in the USA. First, in China, they don't feed you. You have to have someone bring food from the outside. I had no problem with this. I have a lot of friends and Lily, my personal assistant, was with me 24/7 taking care of me. I got plenty of good food to eat (or at least, all that I wanted).
I requested and got a private room. I paid double the daily rate to get it, but, it was worth it. A lot of family visits when a Chinese person is in the hospital. I really don't know how they get any rest.
Another thing that was different was the daily bill delivered to the room. This was a bit surprising. In the West, we really don't consider the cost until usually several weeks after the treatment we've received. And then, it is usually billed directly to your insurance. You will pay a small portion (deductible) and perhaps 10-20% of the total bill. If you can't pay immediately, you can usually work out a payment plan with the hospital.
I was very pleased at another difference I experienced. That is, the doctors are on the ward (hospital floor) nearly at all times. In the USA, the doctor 'visits' his/her patients every day. They leave the hospital and aren't available if you need them.
I was very surprised when I learned that my primary physician would also be an attending surgeon. In fact, I had two surgeons, Dr. Li and Dr. Hou, for my first surgery and two more, Dr. Hou and Dr. Pan, for my second one. My past experience in the USA was that the primary physician is usually different than the surgeon. Not in China. I was happy to get that level of care.
Each morning and afternoon, the entire staff of nurses would come to my room to check on me and get updated on my current condition. Also, my surgeon would visit every morning to change my bandages. I'd never seen this done with the level of personal care that they gave. Often, several interns would accompany him and observe what he did. I was very impressed even though I lost all modestly in the process.
The equipment, facilities and other necessary items to provide care, were all quite modern and very impressive.
Considering the condition I was in (a lot of pain), I am very, very pleased with the care, attention, expertise, therapy and medicine that I was treated with.
I give very high marks to Dr. Li, Dr. Hou and Dr. Pan and Central Hospital of Zhengzhou for taking care of the first 'laowai' that they'd ever treated in their ward. Thank you gentlemen (doctors) and ladies (nurses) for taking care of me and helping me deal with my issues.