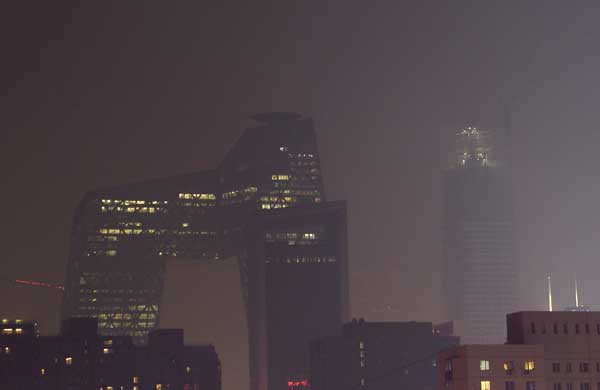 The CCTV headquarters is shrouded in heavy smog in the central business district in Beijing, China Dec 7, 2015.[Photo/Xinhua]
We believe it is fair to say some of the Chinese government's more stringent standards issued at the national level and tightened in key provinces have indeed started to have some impact. Now, the Beijing-Tianjin-Hebei region (or Jing-Jin-Ji, as it is referred to in China) has high targets for air, water and soil quality.
The amended air pollution prevention and control law became effective on Jan 1, 2016. China also updated the national environment law last year, laying the foundations for better information disclosure on environmental issues and giving citizens greater say on their environment. So there is good reason to believe air pollution in Jing-Jin-Ji is better controlled than before.
For China to effectively address air pollution, and to ensure there are lasting blue skies over Jing-Jin-Ji, we would like to emphasize five points.
First, it is essential that investments to counter air pollution are accurately targeted for maximum impact. Sound scientific and cost-benefit analysis will help ensure this. For example, while the energy and industrial sectors are clearly the most significant sources of air pollution, seasonal stalk burning and residential coal burning-for heating and cooking-around Beijing and in Hebei province are estimated to contribute at least 29 percent of harmful particulates in the air. They also produce as much harmful sulfur dioxide as all the coal-fired power plants in Jing-Jin-Ji. Under the policy action developed with the Asian Development Bank, Hebei is committed to investing in a monitoring system, which has been the missing link in undertaking a comprehensive analysis.
Second, there should be regional planning and better coordination of actions in pollution control, monitoring and enforcement. Air pollution in Jing-Jin-Ji is caused by pollutants transported within that region. Unified air quality standards and coordinated control measures and strategies would improve regional air quality, as has happened in Europe.