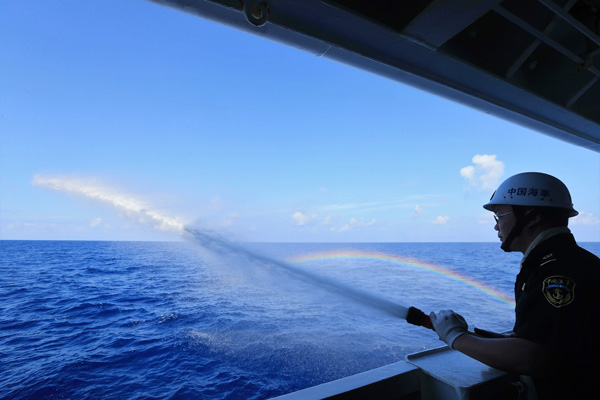 A crew member takes part in a fire drill on China's largest and most advanced patrol vessel Haixun 01 on the South China Sea, April 4, 2016. [Photo/Xinhua]
Japan asks China to respect "freedom of navigation" when it talks about the South China Sea. But that freedom does not apply to other waters.
When China's naval ships passed by waters close to Japan (one frigate off China's Diaoyu Islands on June 9 and the other vessel through the Tokara Strait on June 15), Japan summoned China's ambassador in Tokyo to lodge a protest and criticized China for the "heightened tension" in the East China Sea.
Japan said the first Chinese warship was in its contiguous zone and the second in its territorial waters.
Under the United Nations Convention on the Law of the Sea states have limited enforcement rights within the contiguous zone.
"For Japan, there was thus no basis under UNCLOS to protest about the Chinese ship, as there are no restrictions on passage through the contiguous zone," Steven Stashwick, a former US naval officer, wrote in Japan Times.
As for second Chinese warship's innocent passage, Japanese officials and media highlighted the territorial waters-under international law the area within 12 nautical miles (22 kilometers) from a nation's land border-but made no mention of the Tokara Strait which the Chinese vessel sailed through.
Under UNCLOS, the Tokara Strait off southwest Japan's Kagoshima prefecture is a passage used for international navigation. Foreign ships are entitled to innocent passage through those waters so long as they do so peacefully and pose no threat to the country with sovereignty.
Japan called China's two innocent passages provocation. "We are concerned about recent Chinese military activities which escalate situations," said Japan's Foreign Minister Fumio Kishida.
Yet while Japan played up the "tension" caused by China's naval ships and was on "heightened alert", it did not say the same of Russia when two of its warships also passed through Japan's contiguous zone on June 9.
Japan claimed that it has different approaches to deal with Russia and China because Russia has no territorial claims in East China Sea. But Japan has played down the presence of the Russian ships for a purpose.
Japan and Russia will hold talks in Tokyo on Wednesday on their territorial row over the islands that Japan calls the Northern Territories and Russia the Southern Kurils. The islets are now under Russia's administration. The territorial row between Japan and Russia has prevented the two countries from signing a peace treaty till now.
In defiance of US President Barack Obama's appeal in February for him not to visit Russia, Japan's Prime Minister Shinzo Abe visited Sochi in May for talks with Russian President Vladimir Putin. Japan is eager to advance the territorial talks ahead of a proposed Abe-Putin meeting in Vladivostok in September.
Japan supported the United States when its biggest ally sent several warships to patrol around China's islands in South China Sea. And Japan has been all out to internationalize the South China Sea issue as Japanese officials say their government aims to protest against Chinese maritime advance at various international forums.
Japan's conflicting responses to China, Russia and the US highlight the triple standards in its foreign policy. The country's disregard of international law will hamper the freedom of navigation in the Western Pacific.
The author is China Daily Tokyo bureau chief. caihong@chinadaily.com.cn