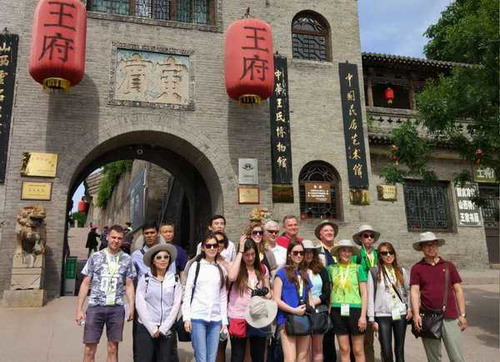 Tourists take a photo in front of a gate of Wang's courtyard in north China's Shanxi province. [Photo provided to Chinadaily.com.cn]
For many foreigners residing in China, a question arises constantly: what are the timeless sources of inspiration and guidance of China? Behind this question looms a second one, how this country works?
For a long time, rather impatient, sometimes confused, I tried to get an answer, I mean, the right answer.
I spent years strolling out through the cities or along the woods and rivers, talking with thousands of people, but there was still a missing link, an unknown secret beyond the walls.
Someday, some favorable winds took me to Shanxi. As it happened, among a group of gifted photographs and journalists originating from the whole world, I was the only one afterthought, not more than a mere spectator.
On the way to the Shanxi province
Contrary to a popular belief, the travel to Shanxi by train is not unhampered by overcrowded cities but by a majestic landscape. It mainly consists of gently rolling hills that descend to densely treed plains. Everything is gigantic, and as far one can see, there is nothing but the untouched beauty of nature.
Close your eyes and picture yourself in a serene setting that soothes you like catching a breathtaking view from a speedy train.
Here, we are in Shanxi, the cradle of the Chinese civilization!
I would say that the early impression is crucial if not the right one.
Mianshan Mountain
The route to the Mianshan Mountain crosses one breathtaking mountain pass after another. At the end, a dangerous road leads to a magnificent natural rock. In this wild, mountainous area, it's all about highs, lows and humbling views. I felt suddenly dwarfed and shy by the vastness and beauty of the site.
Colorful Taoism temples are recessed into the mountain as they had always been there from immemorial time.
During their visit, I ventured alone at the top floor. I have too much respect for the religious beliefs that I walked slowly, discreetly. Behind three demigods, in a hallway, a very soft and filtered light slid onto scrolling lines on the wall.
In a surprising way, the writing was in the language of Shakespeare.
I opened my eyes, deciphering, and line after line. What brought my attention is a word that came up again and again, once prevalent: « Harmony ».
Harmony between nature and humans; harmony between humans; harmony between sky and earth and so on.
I realized that this somewhat magic word runs through the today official Chinese speeches as the motivating force of the nation. Incidentally, two days ago, I read in a newspaper an article about the environmental issue in Shanxi. The key phrase rings into my head. « The people of China are entitled to a healthy life in harmony with nature ».
As the magnificent scenery of the Mianshan Mountains suggested, China is always pegged on its five-thousand-year heritage, the harmony between its past and nowadays.