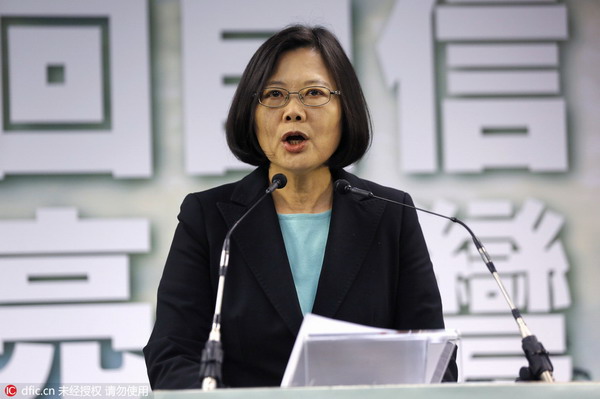 Taiwan's main opposition Democratic Progressive Party, DPP, Chairperson Tsai Ing-wen speaks during a press conference in Taipei, Taiwan, on April 15, 2015. [Photo/IC]
Zhang Zhijun, the Chinese mainland's Taiwan affairs chief, has urged Taiwan officials to give a "responsible explanation" for the misfiring of a missile. The island's authorities confirmed on Friday afternoon that the navy had misfired a missile that morning, which hit a Taiwan fishing boat in the waters off the island, killing one person and injuring three people.
In response, Taiwan new leader Tsai Ing-wen has called for strict "military" discipline and promised a full explanation to the mainland and neighboring states. Also, the island's "military" issued a written report on Monday explaining the entire incident.
Speculations aside, the island's poor "defense" management and disorderly training program is to be blamed for the "failure of personnel to follow procedures during a test". On the one hand, many of the island's "defense" personnel, especially new recruits, are not adept at handling cutting-edge weapons like anti-ship missiles, with the misfiring of the missile being a case in point. On the other hand, the incident may have a lot to do with the low morale of and simmering discontent among the "defense" personnel.
The Taiwan "defense" sector has long fallen victim to populism. The recent public protest against some soldiers who had killed a stray dog, for example, prompted the offenders and a senior official to apologize twice, dealing another blow to the "defense" department's image.
The ruling Democratic Progressive Party, too, has challenged the authority and competence of the "defense" forces before-it did so even after DPP chairwoman Tsai assumed office in May.
True, there is no need to over-interpret the misfiring of the missile on Friday. But absurd as it may sound, similar incidents have taken place even earlier. Until now, mainland authorities have exercised restraint on such "accidents", which some observers say, was "created" to urge the mainland to restart the cross-Straits communication mechanism.
But the truth is, whether or not the misfiring of the missile conveys such a political urge, both sides can cooperate only on the political basis of the 1992 Consensus.
Indeed, the incident highlights the importance of timely communication between the mainland and Taiwan-it reportedly took the latter eight hours to report to the mainland Taiwan affairs office perhaps because of the temporary suspension of the hotline.
It is therefore important for Tsai and her DPP to make clear their stance on the 1992 Consensus and, hopefully, acknowledge it if they really want the resumption of communications. Otherwise, they have to take the blame for and have to deal with any untoward outcome in the absence of candid exchanges.
The author is a professor at the Institute of Taiwan Studies, Beijing Union University. The article is an excerpt from his interview with China Daily's Cui Shoufeng.