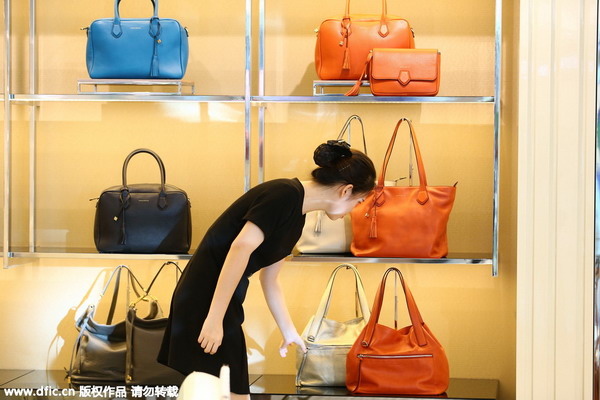 Bags of foreign brands are displayed at the Haitang Bay Duty Free Shopping Center in Sanya, Hainan province, Sept 27, 2014. More duty-free stores will open at Chinese borders, with a higher purchasing cap for each individual tourist and more categories of products. [Photo/IC]
The recent Brexit has triggered market turbulence worldwide and also caused extensive concerns about whether the current trend of globalization will continue, with some interpreting the incident as the start of de-globalization.
Globalization has entered a stage dominated by the trade in services, in which the development of bilateral and multilateral free trade areas in services is accelerating. However, trade protectionism, conservationism and populism may pose more severe challenges following Brexit.
For China and the European Union, which will have to assimilate the negative influences from Britain's departure, the establishment of a China-EU free trade area by 2020 would not only liberalize trade but also lubricate China's economic transformation and upgrading, and the EU's economic recovery.
Despite facing economic downward pressures, economic transformation is taking shape in China, and this will offer important opportunities for its more extensive and in-depth economic and trade cooperation with the EU. Services-related consumption is booming in China, which is expected to rise from the current 40 percent of the country's total consumption to more than 50 percent by 2020. Besides, the added value of the service industry is also rising, which is expected to rise from 50.5 percent of China's gross domestic product to 60 percent by 2020. As a result of a booming service industry, consumption will make growing contributions to the country's economic growth.
The import and export volume of China's service trade increased from $362.4 billion in 2010 to $713 billion in 2015, with a per capita growth rate of 14.5 percent, and the service trade is expected to rise from 12.3 percent of the country's total trade volume in 2014 to above 20 percent by 2020. By that time, China's service trade is expected to play an important role in its bilateral and multilateral free trade areas.
China and the EU are economically complementary. China needs to learn advanced technologies and management experiences from the EU in its effort to develop modern agriculture and achieve a breakthrough in economic transformation and upgrading, while the EU needs to make better use of China's huge service market to promote its economic recovery and sustainable development. China's imports of services from the EU are expected to drastically increase in the years ahead, which will offer an important driving force for the economic recovery of the bloc.
By 2020, China's service trade is expected to total $1.2 trillion, of which service imports are expected to rise from $424.81 billion in 2015 to between $600 billion to $700 billion, thus bringing an enormous commercial opportunity for EU's service enterprises.
But China and the EU also face a series of technical problems in their efforts to deepen their bilateral cooperation. Excessive obsession with these problems may cause them to miss rare opportunities for deepened cooperation. Instead, if both sides take a long-term perspective and accelerate the building of a free trade area, these problems will be easily addressed. True, the accelerated building of a free trade area will add competition pressures to market players in both China and the EU, but it will also enhance their willingness to advance some needed structural reforms. Both sides should be more resolved to advance these reforms and boost the competitiveness of their enterprises and should not attribute their problems to liberal trade and turn to protectionism.
As the world's largest developed economic entity and largest developing economy, the establishment of a free trade area between China and the EU and the advancement of bilateral liberal trade and investment cooperation, especially in the service trade, will set a good example for cooperation between a developed economy and a developing economy, and make a unique contribution to global economic rebalancing and better global economic governance.
The author is president of Hainan-based China Institute for Reform and Development.