A woman who dates or marries a famous man doesn't have to be a gold digger, yet she should possess the dexterity to avoid certain pitfalls. Tian Pujun could be a cautionary tale in that regard.
Wendi Deng might have envied Tian Pujun.
The former Mrs Murdoch had all the photo opportunities with major celebrities in the world, but it was not easy for her to stay in the headlines. There are only so many puff pieces a veritable media outlet can carry for the spouse of their industry leader.
Tian is not yet Mrs. Wang Shi, yet she has managed to monopolize national attention on so many occasions that her celebrity status can well serve as a prism through which lies China's evolving attitudes toward women of a certain type.
OK, I'll take a step back and provide the background information. Deng was the third wife of News Corp chairman and CEO Rupert Murdoch, from 1999 to 2013. Like Deng, Tian is having a May-December affair with a top-echelon business leader - Wang Shi in this case. And Wang is in trouble, which some in China blame on Tian.
Tian met Wang in 2008 when she was 27 and he 57. She said she got to know him at a famous business school, which has now taken on the overtone of a gold-digging platform. But a newly released article claims they were introduced by another business tycoon who came up with the saying: "When an entrepreneur is chasing starlets, his business is doomed."
Before she met Wang, Tian had appeared in several films and TV shows in minor roles. Now, Wang's company, Vanke, faces the risk of a hostile takeover. Many in China have pinpointed Tian as the curse, but there is no evidence for that.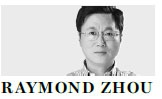 The business complications have been a national obsession and, a business major that I am, I have not done the due diligence to offer proper elucidation, which, anyway, is outside the scope of this article.
Traditional Chinese culture contains an innate prejudice against women in powerful positions, especially when that power is not earned, but associated by marriage. When a political or business empire falls, many of us have the habit of targeting the woman for castigation.
When Liu Bang of 2,000 years ago started persecuting those loyal to him, his actions did not fit the profile of a great leader. So, the public pointed the finger at his wife as the source of all evil.
As a joke that's now viral goes, an old man suddenly in love is like an old house that caught fire. It cannot be saved. But in noway can a new, catchy aphorism prove that Wang has lost his business acumen because of this love affair. It is much harder to frame an ongoing relationship in the familiar melodramatic mode than to interpret historical events under murky circumstances.
While outsiders are not really in a position to judge those in love, famous or not, it is quite clear that Tian has not been positive for Wang's public image.