'Home' comfort, key to education abroad
Chinese are snapping up properties overseas to enable their children to pursue quality courses
When she takes off from Shanghai for Vancouver this summer for full-time postgraduate studies, Olivia Zhang, 26, sales manager with a commodity trading company, will be moving herself and her considerable funds. Unlike other students who look to rent a dormitory bed or a hostel room, Zhang is seeking to buy a flat.
"I had applied for student dormitory rooms. But their availability is limited. Will I get one? Fat chance! So, I thought, why not just buy an apartment if I could afford one? I'll then own it and I can earn return on my investment later," said Zhang.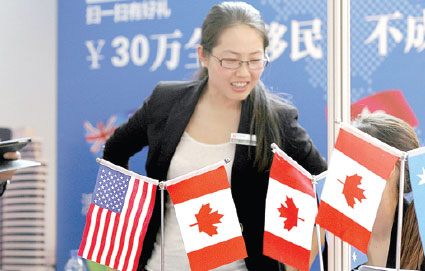 A mother of a student reviews information at a recent promotional event for US and Canadian properties in Beijing. A Qing / For China Daily
The source of her funds will be the proceeds of the sale of her apartment in Shanghai. Her family are permanent residents in Canada, so visa and the proposed realty deal should not be a problem for Zhang.
There are many Chinese homebuyers like Zhang in Canada and other countries these days. These wealthy people call their overseas properties xue qu fang, or properties within a stone's throw from a good school, college or university.
Once they or their children finish education, they rent out or resell xue qu fang, or decide to live there permanently if they are able to.
According to Juwai.com, which provides information on overseas properties, cities with famous educational institutions are seeing a steady rise in realty prices, thanks to such non-speculative buyers, who now account for more than half of the Chinese snapping up overseas properties.
For instance, in the UK, 54 percent of Chinese property queries are for xue qu fang; in Australia, it is more than 60 percent; and in the US, more than 72 percent.
Influx of overseas students has a positive impact on local economies, including realty, said Charles Pittar, CEO of Juwai.com. For instance, Chinese students spend more than $18 billion a year in Australia.
"When Australia wins a foreign student, it gains tens of thousands of dollars in education fees, and at least as much in retail and services spending, plus potentially much more in real estate investment," said Pittar.
Last year alone, Juwai.com funneled Chinese inquiries for Australian properties worth A$1.6 billion ($ 1.2 billion) Down Under. Queries worth a potential $1 billion came for xue qu fang.
The scene is not vastly different in the US, said property agent Peter Ng in Los Angeles. States such as New York, Massachusetts, and Pennsylvania command much demand on the back of their famed educational institutions.
Ng said: "Chinese families who buy homes for children focus a lot on safety of the neighborhood. This is so because the average age of Chinese students pursuing education in the US is now significantly lower than before.
"Some are middle school students and some are even primary school students. So, they really want their homes to be as close to school as possible, to reduce commuting time and risks.
"Also, some students are buying homes for themselves. They look forward to buy property as early as possible. If they are able to continue their stay after education and work there, they can stay at the same place without the trouble of relocating, or they can resell at a profit and reinvest in larger houses."
Ng said properties with more than three bedrooms are popular among Chinese buyers. For, one room is often reserved for visiting family members or friends, or is let to other students to supplement the cost, or is transformed into a study.
Daniel Tang, San Diego-based home sales consultant with CBRE, said, "Chinese students are now aware of many institutions, not just the Ivy League colleges. They are looking at smaller but good colleges outside the top 10, particularly those with strong competences in disciplines like design, art, communication and engineering. So, demand for housing is rising in California, Texas and Illinois."
Similarly, in the UK, Chinese are looking to buy homes as they need to invest fewer yuan now, given the erosion of the pound sterling's value of late. They are not unduly concerned about the potential impact of Brexit on the local property market as they believe such effects are likely to be short term in nature.
Brian Zhou, 49, a resident of Shanghai, agrees. He just bought a two-bedroom apartment in the South Bank area of London for her 22-year-old daughter. "People like me are not speculative buyers. So, quality and the neighborhood are important," he said.
wuyiyao@chinadaily.com.cn