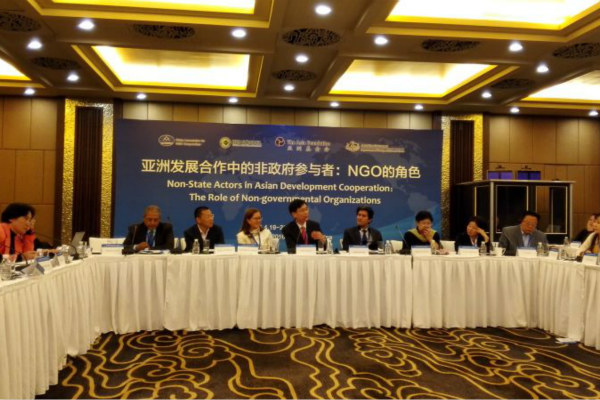 Participants discuss NGO's role in Asian development cooperation during the seminar in Beijing, April 19, 2016. [Photo provided to chinadaily.com.cn]
The G20 Summit scheduled for September in Hangzhou, East China's Zhejiang province, will mark another step forward for China in global governance. As a powerful group of the international community, especially in the fields of finance and investment, the G20 offers a rare opportunity for non-governmental organizations in China to help realize its global goals.
China's participation in global governance, many overseas observers argue, is basically driven by the Chinese government. But that is not the case.
True, as manager of the world's second-largest economy, the Chinese government has a decisive say in policymaking. But the rise of NGOs following China's deepening integration into the international community should not be overlooked, especially because some of them hold bigger sway than many local governments.
NGOs in China are in general divided into two groups. The first consists of those affiliated to governmental organs or mass organizations, and the second comprises those with different specialties. The first includes the All China Federation of Trade Unions, the Communist Youth League of China and the All-China Women's Federation. And the second includes the Chinese People's Association for Friendship with Foreign Countries and the All-China Journalists Association, which normally have very specific strategic focus.
Despite their different missions, they all play a pivotal role in communicating with their foreign counterparts and conveying to them China's stance on certain global issues. They do not necessarily represent the Chinese government, but their active participation in transnational exchanges can help other countries better understand the Chinese society.
Apart from semi-official organizations, there are a great number of independent associations with no governmental background, such as foundations and think tanks. Among them the diplomatic and security think tank Chahar Institute, the Wenzhou Chamber of Commerce that has been involved in global commercial events, and the Center for China and Globalization that focuses on global talent issues seem to be leading the way.
Their operation only requires them to be registered, according to the Ministry of Civil Affairs rules, to gain access to discussions on global governance. They also take part in regional affairs, which bears more fruits in Asia and Africa compared with their western counterparts.
Chinese NGOs, semi-official or independent, have also served as a bridge between public opinions. For example, the World Peace Forum, an annual event co-hosted by the Chinese People's Institute of Foreign Affairs and the Beijing-based Tsinghua University has been playing a constructive role in promoting dialogue between former political heavyweights and NGO representatives at home and abroad since 2011.
Besides, the NGOs contribute to non-official, peaceful exchanges between China and the rest of the world, particularly in the fields of education, medical care, public health, environmental protection and poverty alleviation.
Endorsed by the Central Committee of the Communist Youth League of China, more than 600 young Chinese volunteers have traveled to 22 Asian, African and Latin American countries to offer services to local residents for six months to two years since 2002. More of them are expected to embark on such journeys to help other developing countries.
Since such attempts have borne fruits, China has every reason to encourage more NGOs to have greater say in global issues as the G20 summit approaches.
The author is deputy director of the Institute of International Relations, Tsinghua University.