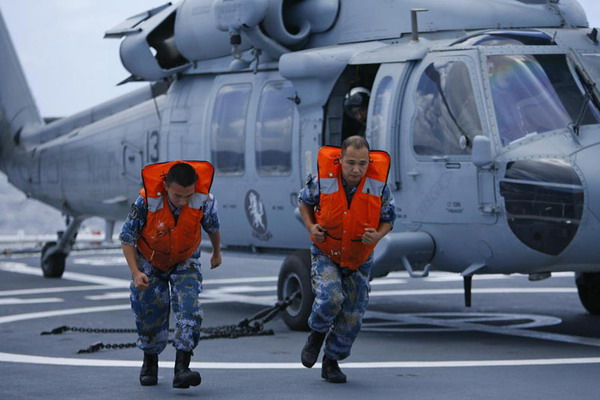 Sailors from Chinese People's Liberation Army (PLA) run after unhooking a U.S. Navy UH60 Seahawk as it prepares to take off from the PLA ship Peace Ark during the multi-national military exercise RIMPAC in Honolulu, Hawaii, July 23, 2014. [Photo/Agencies]
China will participate in this year's Rim of the Pacific Exercise, a biennial joint military drill among 27 countries including the United States, from Thursday. As in 2014, this year too it will take part in "outer" RimPac programs such as humanitarian assistance and anti-terrorism.
China's participation in the US-led RimPac once again shows that the situation in the South China Sea is under control and the possibility of a military conflict remote. Although some countries that have maritime disputes with China have been speculating a possible China-US conflict, RimPac proves them wrong. In fact, Beijing and Washington are expanding their cooperation amid competition.
RimPac is important because it sees the positive interaction of the Chinese and US navies, and shows the two sides are on track to develop a "new type of major-power relationship", as advocated by President Xi Jinping.
More importantly, compared with last time, China has been invited to take part in more drills such as gunfire, damage control and search and rescue operation, signifying the development of trust between the Chinese and US navies. But the drills China takes part in will still be "peripheral", instead of core programs. This suggests China and the US need more time to deepen mutual trust. Also, the two countries' navies will take time to adjust to each other in aspects such as technological standards. And the right way they can do this is to start with joint drills in RimPac's "outer" programs.
The two key RimPac programs China has participated in are anti-terrorism and humanitarian assistance, which are major challenges for Asia-Pacific countries, including China and the US, and both major powers need to work together to meet them. The Chinese navy has already vowed to work with its US counterpart to overcome the common threats.
Of course, the China-US military and security relationship is not without problems. And the most notable problem troubling the relationship is some US allies' territorial disputes with China.
Given this fact, the US needs to keep its promise not to take side on the territorial disputes and avoid being dragged into any conflict provoked by a third party. The US should also honor is promise of helping keep the South China Sea disputes under control.
The US and China need to have more military interactions to deepen mutual trust and avoid misjudging each other's strategic moves.
The author is a colonel and associate researcher at the Institute of Strategic Studies, National Defense University. The article is an excerpt from her interview with China Daily's Zhang Zhouxiang.