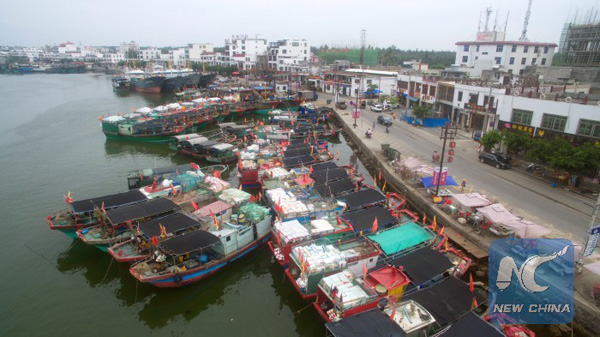 Fishing boats anchor at the Tanmen port in Qionghai city, South China's Hainan province, May 16, 2016. China banned fishing from May 16 to Aug 1 in the South China Sea, a measure taken for the 18th consecutive year. [Photo/Xinhua]
China-Indonesia relations have been in the news since Indonesian navy ships fired warning shots at Chinese fishing boats in a disputed fishing ground in the South China Sea on June 17. So far, China has exercised utmost restraint in the case, reflecting its diplomatic maturity and the importance it attaches to Beijing-Jakarta ties.
Yet Indonesia's reaction to the incident shows it might be thinking differently. On Thursday, Indonesian President Joko Widodo held a cabinet meeting on a navy ship that was involved in firing the warning shots and detaining Chinese fishing vessels and their crew. This suggests Indonesia has adopted a hard-line policy toward China. Also, Indonesian Security Minister Luhut Panjaitan told The Jakarta Post that Widodo's move was aimed at sending a "clear message" that Indonesia was "very serious in its effort to protect its sovereignty".
China and Indonesia have spats over fishing rights from time to time because Beijing and Jakarta are yet to sign a fishery agreement.
The June 17 incident, the third time Indonesian navy vessels confronted Chinese fishing boats this year, took place in a traditional Chinese fishing ground where China and Indonesia have overlapping maritime claims. Going by international practice, dialogue is the the best way to deal with skirmishes of such kind, simply because the use of force will not help resolve the issue; on the contrary, it could worsen the situation by driving a wedge into what generally is a stable and deepening bilateral relationship.
Thanks to the efforts of both China and Indonesia, the two sides have enjoyed fruitful cooperation in economic and trade in recent years, with bilateral trade and investment rising steadily.
At the second China-Indonesia high-level economic dialogue in Jakarta in May, the two sides broadly agreed to deepen cooperation in areas such as trade, investment, agriculture, fishery, infrastructure construction, energy and finance. And as Chinese State Councilor Yang Jiechi pointed out during the dialogue, Indonesia's Global Maritime Axis vision and China's 21st Century Maritime Silk Road have much in common strategically and offer enough space to the two countries to anchor their bilateral comprehensive strategic partnership.
The two countries have already agreed to a number of major bilateral projects such as the Jakarta-Bandung high-speed railway, and Indonesia has been actively involved in the development of the China initiated Asian Infrastructure Investment Bank. All this means the two sides are integrating their development strategies and policies.
On the regional front, Indonesia, a key member in the Association of Southeast Asian Nations, is considered by some as a bellwether of China's relations with the 10-member bloc. A sound relationship between Beijing and Jakarta not only contributes to the interests of the two countries but also will be a stabilizing factor for regional peace and stability.
The disputes between China and a few ASEAN member states in the South China Sea have raised tensions in the region. And the Philippines has unilaterally filed an arbitration case against China at the Permanent Court of Arbitration in The Hague, which is expected to pass its ruling soon.
Under such circumstances, the spat between Indonesia and China could be misinterpreted by some as Jakarta's intention to side with the Philippines to confront China over maritime disputes.
As a country that too has a stake in peace and stability in the region, Indonesia should soften its stance against China and resolve the fishery dispute through talks to prevent vested interests from exploiting the situation. And as two major developing countries, China and Indonesia need to overcome the spat so that they can work for economic integration and common prosperity of the entire region.
The author is deputy editor-in-chief of China Daily Asia Pacific.
jasmine@chinadailyhk.com