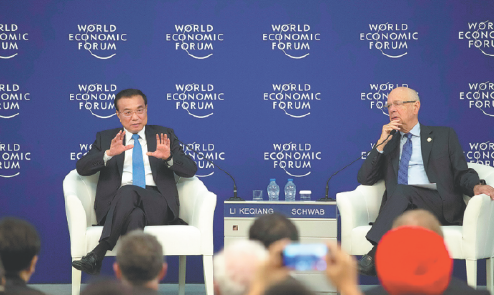 Premier Li Keqiang meets with representatives of business leaders attending Summer Davos Forum in Tianjin on Tuesday. FENG YONGBIN/CHINA DAILY 
On Monday, Premier Li Keqiang answered questions from Executive Chairman of the World Economic Forum Klaus Schwab after delivering a special address at the opening ceremony of the 2016 Summer Davos Forum in Tianjin. On Tuesday, Li had a dialogue with some business leaders attending the forum. Below is a transcript of the two events.
Klaus Schwab: Premier Li Keqiang, thank you for sharing with us such a comprehensive and integrated vision of China's economy. We should not underestimate the challenge related to leading such a large economy. You have graciously agreed to answer one or two questions. You described China's structural reforms and economic adjustment in your special address. And I think it is remarkable to achieve 6.7% growth. And you also shared with us this growth rate is quite stable, but there are still very substantial downward pressures. Now, my question would be: are there any special measures which the Chinese government will take to secure healthy and sustainable economic development?
Li Keqiang: In the first quarter of this year, China's economy grew at 6.7%. And entering Q2, we have maintained a steady momentum of economic development. I should point out that neither has come easily. Such a growth has been achieved when the size of the Chinese economy has reached 10 trillion US dollars. So, the 6.7% growth has generated more additional output than a double digit growth several years ago. Moreover, we have achieved such growth at a time of sluggish global economic recovery. I can also tell you that since last year, growth of Chinese exports has on the whole been in the negative territory. We have relied on our internal drivers to spur growth and our domestic market to provide the room for development. And we have achieved such growth while tackling the long-standing problems in China's development.
When the size of China's economy has become so big, if we still blindly pursue a high growth speed, it will only put more pressure on our resources and the environment, and such growth is unsustainable. The truth is, a medium-high growth is good enough for us in adding jobs, increasing personal income and improving the environment. Recent years have not seen China resort to massive stimulus measures in boosting growth. We have striven for progress while maintaining stable economic performance. We have adhered to pursuing a proactive fiscal policy and prudent monetary policy. And we have focused on advancing structural reforms and succeeded in sustaining medium-high growth. Growth has remained within its proper range and been consistent with our anticipation. Going forward, we will maintain the stability of our policy direction.
In the meantime, we will not underestimate the "variables" in the global economy, nor the potential risks and challenges in China's economy. We have a good reserve of policy instruments to help us meet various challenges. As I said in the special address, the central government debt ratio is pretty low and there is room for us to do more in implementing the proactive fiscal policy. We have a high savings rate in China. That means there is still more that we can do to pursue financial reform, harness existing funds and enhance the transmission mechanism for the financial sector to better serve the real economy. In a word, we are prepared with a good "toolbox" of macro policy instruments to deal with greater challenges. I wish to emphasize that the market should view those short-term fluctuations in China's economy in a calm way. When viewed in the whole of the year and in the long run, China's economy will stay within the proper range and maintain steady growth, and we will be able to strike a balance between steady growth and structural adjustment and, by pursing structural reforms especially supply-side structural reforms, achieve more sustainable development.
We have confidence in a long-term, positive trend of China's economy. I hope that all the business people present here will be long-term investors in China's market and a force for boosting such a trend. We will use fine-tuning measures to address short-term problems, just as I was fine-tuning my earplug to see if the audio services at the meeting venue have satisfied your need. (Laughter)