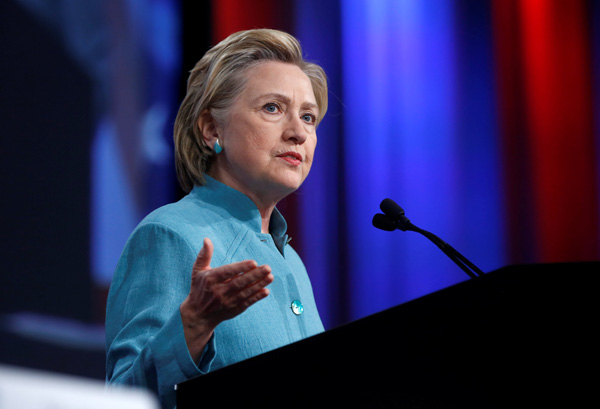 Democratic US presidential candidate Hillary Clinton speaks at the US Conference of Mayors 84th Annual Meeting in Indianapolis, Indiana United States, June 26, 2016. [Photo/Agencies]
US Massachusetts Senator Elizabeth Warren and Democratic presidential candidate Hillary Clinton made their first joint campaign appearance on Monday, finally confirming the previous speculation that Warren would be picked as Clinton's running mate.
For Clinton, to pick Warren as a vice-president will help her gain the support of more progressives who were in favor of Vermont Senator Bernie Sanders.
A recent poll indicates that among 1,200 supporters of Sanders, only 55 percent expressed a willingness to vote for Hillary. This suggests some Sanders' supporters might vote for presumptive Republican presidential nominee Donald Trump if Hillary does not change her image among ordinary voters. The partnership with Warren is expected to reverse the current course, given that the Massachusetts senator enjoys an approval rate no lower than Sanders among ordinary supporters of the Democratic Party.
As a law professor and a self-proclaimed spokesperson for students, the middle class and poor people, Warren has a good understanding of the "institutional problems" in US society. She has been appealing to the government to undertake more responsibilities in income redistribution, such as levying a higher tax on people with high incomes and increasing pension and healthcare subsidies to specific groups.
She has also played a role in leading the movement of labor and environmental protection organizations, ethnic minorities and feminists in recent years. And as the Senate's leading voice for tougher oversight of Wall Street, Warren is also expected to help Clinton break with her reputation as being too closely tied with Wall Street and articulate a progressive counter-argument to the Trump camp.
However, the problem for Hillary in her cooperation with Warren is how she can effectively avoid the possibility that she may be dwarfed by Warren's unequivocal ideological positions and extensive public approval.