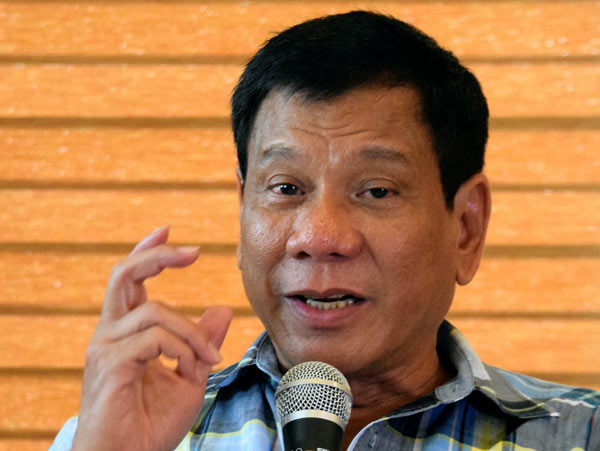 President-elect Rodrigo Duterte speaks during a news conference in his hometown Davao City in southern Philippines, May 16, 2016. [Photo/Agencies]
Immediately prior to Rodrigo Duterte's inauguration as the new Philippine leader, The Hague-based Permanent Court of Arbitration announced it would deliver a ruling on July 12 in the Philippines' case against China over their South China Sea dispute.
The big question for Beijing is whether or not the leadership change in Manila will bring in someone it can talk with.
Beijing has reiterated that the arbitration is illicit in nature, thus the upcoming verdict will not be accepted, or implemented. But it also expressed once again its willingness to engage in one-on-one negotiations with Manila for a peaceful solution.
Yet negotiations will not be possible without both parties committing to them. By taking the dispute to the arbitration tribunal, the Benigno Aquino III administration effectively shut the door on meaningful talks.
For the flexibility he demonstrated in remarks regarding Sino-Philippine relations, particularly on the South China Sea, Beijing seems to be convinced that will not be true of Duterte.
However, Duterte made more-or-less inconsistent statements on some topics, and there were also doubts whether his stance would carry through from Duterte the candidate to president-elect, to the president. That was why Beijing was waiting for any hint about bilateral ties, or the South China Sea dispute, in Duterte's inauguration speech on Thursday.
Since Duterte made no mention of either China or the South China Sea in his speech, it remains to be seen whether his previous claim of readiness to talk will materialize.
Beijing has drawn a clear line between its refusal of the Aquino-initiated arbitration and its willingness to engage in negotiations with Manila.
As President Xi Jinping said in his congratulatory message to the 16th Philippine president, Beijing sees his inauguration as "an important opportunity" for repairing the damaged relationship.
The pending ruling by the arbitration tribunal has the potential to further complicate the Beijing-Manila relationship and worsen the present impasse. But that will do no good to political resolution of the dispute. In rhetoric at least, both Beijing and Manila have displayed a commitment to a peaceful solution. The July 12 ruling, therefore, will be a test of that commitment.
How Beijing and Manila approach the upcoming ruling, and whether they can avoid being led astray from the otherwise hopeful course of engagement will determine the future of Sino-Philippine relations.
As Xi said in his congratulatory message, only "sincerity and goodwill" can build the "mutual trust and cooperation" necessary for relations between the two countries to have a brighter future.