My name is Sidney MangendaTshiaba. I am from Congo, Kinshasa. I lived in China for almost 2 years. I have visited and spent a reasonable amount of time in different cities and have seen and witnessed the rapid development of the economy in these cities. China is aiming for modernization and not westernization. My first impression was that China's economic transformation has been hugely successful with remarkable achievements.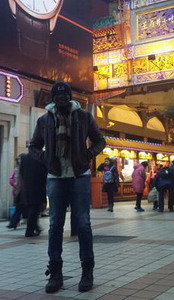 Sidney poses a photo at the entrance of Wangfujing Snack Street in Beijing. [Photo provided to chinadaily.com.cn]
Chinese people are hardworking people. I simply did not see a lot of laziness. People work very long hours. There is a palpable sense that it's China's time to shine and join the world stage in a way that it hasn't in the last century. There is less corruption and high self-respect for the nation.
Everyone seems willing to row in the same direction. The Chinese are very proud of their country. Their country's history dates back thousands of years. I treat China as my second home.
China has a really long history and it is very powerful. You can see so many things here that are impossible to see outside of China, if you visit Shanghai, Beijing, Guangzhou, Shenzhen, Hong Kong, Hangzhou and so on, you will understand how good China is, here you have a mix of traditional and modern life and this makes China more colorful and interesting.
Frankly I find people in China to be much more helpful. China is peaceful and the safest country in the world. China is becoming more open and accepting than before.
China is not only focused on developing its economy and its own infrastructure and cities, it has begun to make sizable mutually beneficial investments in other developing countries. Besides developing the economy, it has been paying more attention to pollution control.
It has made hefty investments in high speed trail transportation system as well as curbing the growth of passenger cars. Green energy is also a major development focus for reducing pollution in the country. I can admit that China has many problems, but I believe it is growing for the better.
If you want to share with us your experiences in China during the past year, please join us and you will have a chance to win a Kindle.
The opinions expressed here are those of the writer and don't represent views of China Daily website.