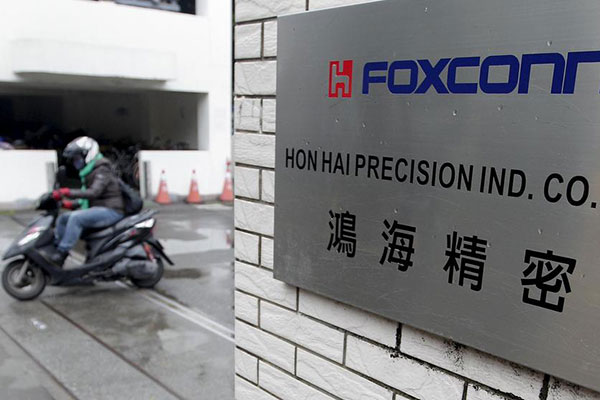 A motorcyclist rides past the entrance of the headquarters of Hon Hai, which is also known by its trading name Foxconn, in Tucheng, New Taipei city, China, in this December 24, 2013 file photo.[Photo/Agencies]
As taiwan is to hold debates among local leadership candidates for the region, Terry Gou, chairman of the Taiwan multinational Hon Hai/Foxconn Technology Group, openly called for the candidates to talk clearly about the issues instead of trying to play on voters' emotions. Haiwainet.cn asks whether that will work:
As an entrepreneur from Taiwan, Gou is rather rational about the island's leadership election. He wants the candidates to tell the public in plain words their plans for economic growth and how much people will receive for their labor; he even proposed the local legislature review the situation in six months to see whether the promises made have been kept.
Gou is right because no matter which party wins, Taiwan residents want a better life. The ultimate goal of politics is to improve people's well-being and those failing to achieve this will ultimately lose political influence.
But merely talking about economic growth is far from enough. The candidates need to offer voters details of how they intend to promote prosperity. In a transparent environment, such plans will face the test of public opinion and those that are unfeasible will be scorned.
For example, if a candidate says nuclear power plants will be closed, an explanation is needed of where people will get their electricity from? Will it be more expensive? Will it cause more pollution? Without sincere plans and deep public discussions, the debate on such issues becomes mere speculation and political gamesmanship.
Currently it seems that Tsai Ing-wen, chairwoman of the Democratic Progressive Party, has a greater chance of winning the January poll because many residents have become rather impatient with the ruling Kuomintang. Of course residents can make their own choices, but their choice should be based on full awareness of the ramifications of that choice.
A choice based on information manipulated for political gain might lead to the Taiwan economy suffering. Wealthy people like Gou can relocate, but that is not so easy for ordinary residents.
Voters on the island need to make rational choices.