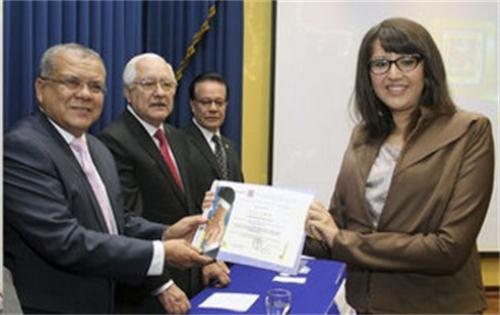 Lima receives the second place diploma from the highest authority of the faculty of Administration of Inca Garcilaso de la Vega University on October 7, 2015. [Photo provided to chinadaily.com.cn]
I believe opportunities are where you are, and this year, China gave me many, even if I haven't personally been there yet. I think I have been more involved with this country compared with previous years, especially on three occasions. But first I'm going to make a little introduction of myself.
I am from Lima, Peru. I've just finished my studies on Foreign Trade & International
Marketing at Inca Garcilaso de la Vega University in August this year and I am planning to apply for a scholarship to specialize on East Asian countries' relations with Latin America, especially with Peru.
The first special occasion was in the middle of the year as I heard that Gestion (a Peruvian business newspaper) was accepting articles for its opinion section, consisting in two parts, the first one was an essay of approximately 250 words, and the second part to answer a question they publish every day, in very few words. Both had to be about the current economic situation of the country. I remember feeling shy and started to write the second part as it is known that the first part is competitive and so it was more difficult to get your essay published as many people send in their articles.
However my mentor, Dr. Carlos Aquino, a specialist on East Asian economies, encouraged me to write about it. And it was on June 5th that my first large opinion article was published (see picture below) with the title Exportaciones a China (Exports to China). I was so thrilled and couldn't believe what I was seeing. My first article published in a newspaper, it was awesome! After this my short essays were being published regularly, at least once a week in Gestion newspaper. Thank you China!
The second time I was walking directly to my classroom when I suddenly saw in a panel, a poster announcing an Essay Contest organized by my Faculty. I automatically thought of writing about China again. So I did, and waited for the winner's announcement 30 days later. I got second place with the essay titled Chinese investment in Peru: Impact of the Bioceanic Railway on our competitiveness as an exporter country. I was so happy and my family was very proud as they went to the award ceremony.
China is always a good idea, thank you so much again!
After these two great experiences, I remember one day in June being in front of my computer wishing and imagining how great it would be if I could be a columnist for some media in China.
After two days while I was on Facebook, I chanced upon a shared link of an article of a Peruvian journalist named Patricia Castro Obando on her blog Vía China (Through China), announcing the formation of an organization of academic exchange, headquartered in Beijing, called the Community of Chinese and Latin American Studies (CECLA) to be formed by young researchers from China, Latin America and the Caribbean who will have the opportunity to publish their work, with the aim of contributing with the diffusion of knowledge and to the sustainable development of the relations between both parties. I applied by sending my CV and an academic paper. I was so excited that I remember checking my e-mail regularly every day to see if I was admitted.
Now I'm a member of this community and feel so thrilled because is quite possible that my research will be published in Chinese media next year. But the best of all is that being a member will let me learn more about China's great economy and culture.
I also have to mention that in this month I met CECLA'S founding member and director, Dr. Cunhai Guo at a Roundtable held in San Marcos National University about China and Latin-America relations as you can see in the picture below. I had the opportunity to talk to him and met the other important visitors from the Latin American Institute of the Chinese Academy of Social Sciences (ILAS - CLASS) and from Renmin University. It was my first time talking with Chinese people and I have to confess that it was very inspiring as all of them proved to be well prepared professionals during and after their exposition.
This year is has been full of happiness, knowledge, learning, opportunities and luck. Hope my wish to visit this country one day comes true in 2016.
Thanks for everything China! I will never forget this amazing year of the goat!
If you want to share with us your experiences in China during the past year, please join us and you will have a chance to win a Kindle.
The opinions expressed here are those of the writer and don't represent views of China Daily website.